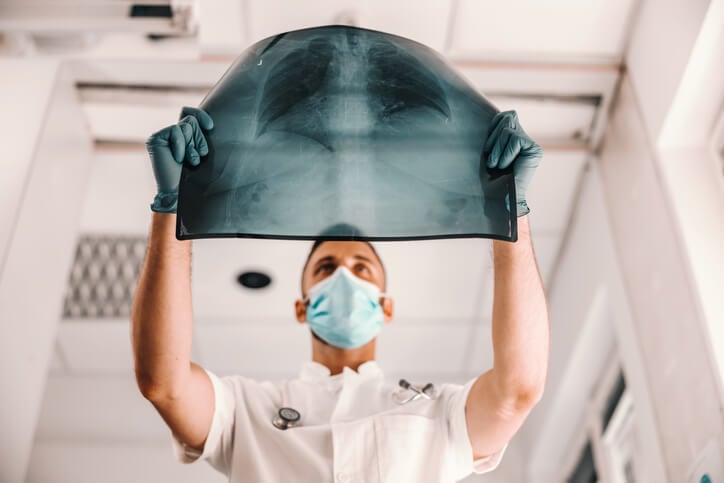 Imaging Careers: Exploring Travel X-Ray Jobs
By Melissa Wirkus Hagstrom, contributor
Are you a radiology technologist/x-ray tech looking for a job to change up your career? If so, a stint as a traveling X-ray tech could be just the professional move to advance your skills, explore new places and give you a fresh start.
Traveling x-ray tech jobs are available in locations throughout the country and offer a variety of benefits including great pay, company-paid housing, insurance coverage, retirement benefits, career growth, and more.
According to the American Registry of Radiologic Technologists (ARRT), radiology techs make up the third-largest group of healthcare professionals in the country, surpassed only by physicians and nurses. And allied health staffing companies are seeing a growing number of travel assignments for radiology techs and other imaging professionals.
Maxine Neifeld, a recruiting consultant with Med Travelers, an AMN Healthcare company, gave us the scoop on travel x-ray jobs and what a radiology career on the road entails.
LEARN MORE about <allied health travel> with Med Travelers.
Travel radiology jobs: The 4-1-1
Radiology credentials and licensing
The radiologic sciences field includes technologists in a variety of fields, and ARRT is the gold standard when it comes to radiology credentials and certifications. In fact, many employers require ARRT certification and registration to be considered for a travel position.
The primary pathways for ARRT credentials include Radiography, Nuclear Medicine Technology, Radiation Therapy, Magnetic Resonance Imaging, and Sonography. Post-primary pathway credentials include more specialized disciplines such as Computed Tomography (CT), Mammography, and others.
"Radiology techs can be registered in all of the disciplines offered by ARRT. Most people start out in the x-ray module and then gain more credentials from there, such as CT down the line," Neifeld explained.
"With x-ray, you are going to need a state license in the majority of states. There are 14 states that you don't need a state license to practice in, and then 36 states require that you have a license."Competition is very stiff in the states that do not require a license, Neifeld said. These traveling x-ray tech jobs fill very quickly and there are always a lot of applicants.
Hot spots for radiology/X-ray tech jobs
Travel x-ray jobs can be found in various types of facilities. The majority of travel contracts will be found in the hospital setting, but there are also opportunities in other practice settings such as outpatient clinics, physician's offices, and urgent care centers.
Contracts typically last 13 weeks, although Neifeld reports that some assignments come up for shorter durations, such as 4-6 weeks, or for longer time periods like 26 weeks.
When it comes to location, she strongly encourages those seeking travel radiology jobs to obtain their California state license.\
"If you want to get a travel x-ray job, my colleagues and I agree that the best place to start is California, and obtaining the license is vital. To practice in this state, you not only need a California state radiology license, but you also need your fluoroscopy permit."
In fact, Med Travelers has many jobs available for certified radiology technologists (RAD techs) and CT techs in locations like California, Washington, Florida, Arizona, Alaska, and more.
Skills and experience required
In addition to the proper credentials and licensing, your experience and skills are also critical to securing a traveling x-ray tech job.
Med Travelers requires that all of their traveling radiology professionals have at least one year of paid professional clinical work experience. "Most facilities are going to look for two-plus years, but for us to work with them they need a minimum of one year," Neifeld said.
She looks for potential travelers who have a good phone presence and an open mind. "Someone who is open to various locations or open to different types of shifts makes them an ideal candidate and a lot easier to place."
Benefits of X-ray/radiology travel jobs
Traveling x-ray tech jobs can help to expand your skillset and grow in your career. Gaining exposure to many different computer systems and types of technologies are just a few of the perks of taking a travel radiology job. Travelers also have the opportunity to learn best practices from their radiology colleagues and work with a wide variety of patients.
Future employers can appreciate the varied experience and the flexibility that travelers gain from adapting to various workplace settings.
But travel x-ray jobs offer more than just professional perks.
"It's not just about the great pay and tax-free money. Traveling is a great opportunity to see the country," Neifeld concluded.
"You don't have to lock yourself into a year-long contract with a company. You can go from place to place and after a few short months, you can try something different. You can be at the beach in winter and then the mountains in summer!"
-PICK your favorite destination and get paid to travel there!
-BROWSE travel <radiology jobs>;
-SIGN UP for <allied job alerts> in your specialty; or