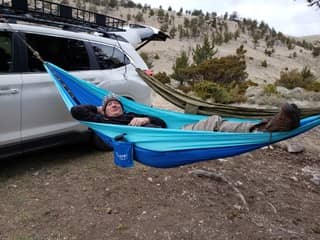 Traveling CT Tech Shares His Secrets for Success
Attitude, Outdoors and Identifying Barriers are Keys to Success
In 1999, Wendell Koprek, BSBA, RT (R) (CT) (F) (ARRT), was experiencing his 33rd consecutive day of nonstop rain in Portland, Oregon, when he received an unexpected call from an allied healthcare staffing agency that is now part of AMN Healthcare.
The travel company was looking for a CT/radiologic technologist for an assignment in sun-soaked Florida. Annoyed by the dreary weather, Wendell decided to take the assignment.
"I was in-between jobs, so it was good timing for a position that sounded like a perfect fit," Wendell said. "So, I packed my car and headed across country to a small, critical access hospital in northwestern Florida. And it was a wonderful experience. I extended and stayed approximately eight months, and it felt like a paid vacation."
That call launched Wendell's allied travel career, which has been going strong for over 22 years. He has worked travel assignments for Med Travelers, an AMN Healthcare company, for the past four years. It's been an odyssey taking him across the country and back again, offering the ability to do what he enjoys – exploring the great outdoors.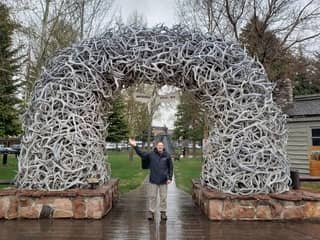 "I love to swim," he said. "I'm really fond of lakes. Swimming, rafting and stand-up paddle boarding are my favorites. I also love hiking, skiing and camping. I really love camping."
At his current assignment in Wyoming, Wendell has also been fossil hunting, astonished by how many fossils he found along the lakes. He also enjoys going to Yellowstone National Park, the Teton Mountain Range, the Bighorn Mountains, and Jackson Hole.
Traveler of the Month honors
In December 2021, Wendell got another unexpected call, this time from his Med Travelers recruiter Meaghan W., who told Wendell he was selected as the Traveler of the Month.
"The first assignment Wendell took was with AMN back in 1999," she said. "He has been traveling ever since and on assignment with me as his recruiter consistently for the past two years. He is the ideal traveler, open to suggestions, and has a strong network with facilities he's worked with."
"Past facilities are always asking if he can return," Meaghan continued. "He understands how the business works and is easy to work with if issues arise. He is very good at working as a team with his recruiter."
When asked what traits comprise an ideal traveler, Wendell said it comes down to one critical skill.
"The greatest skill of any traveler, regardless of specialty, is congeniality," he said. "The true definition of that word means you can fit into any kind of a culture or an environment that is vastly different from one part of the country to the other, where routines are done differently."
For Wendell, the timeless Burger King tagline, "Have it your way," is a guiding principle for every travel assignment.
"I don't take a travel assignment for me," he said. "I am there to fill their crisis need, and I will fix their problems. So, they don't need somebody to say, 'Well, this is how we did it at the last place, and this is the way other people do it.' They don't want to hear that. Instead, try to fit in and forget about yourself a little bit. Realize that you're there to fill a need in a genuine and wholesome manner."
Along with being congenial, Wendell also focuses on overcoming job barriers that impede his duties. He said it's critical to realize these barriers — aspects of your job that can keep you from success — within the first two to three weeks of an assignment.
"Barriers are common denominators at every facility," Wendell said. "A barrier might be a difficult employee who has a bad reputation, and it might be realizing which coworkers have the weakest teaching skills. Barriers are anything that will get in your way from flowing and developing your rhythm. Everyone gets in a rhythm, and they find an organized, systematic way to flow and do their work without barriers. Barriers are anything that prevents you from flowing easily."
Finally, Wendell said using a notebook that fits in your pocket to record door lock codes, critical phone numbers, and anything else that helps you do your job is integral to your success.
Working through COVID
Wendell said he went through several phases of concern and emotion when COVID hit, and the whole process was a learning experience.
"At first, the pandemic was about some biologic fear, which waned. It taught me a lot about the body's immunity and how to strengthen ourselves as frontline workers against anything, including microorganisms," he said.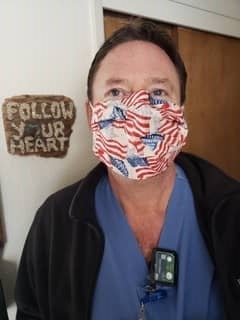 Wendell keeps track of how many COVID-infected patients he has treated, noting that by the end of 2021 he had already counted more than 500. He's never had COVID, and he credits good health, hygiene, and proper use of personal protective equipment (PPE).
"The first thing I do when I get in town on assignment is find a gym," he said. "I love to exercise outdoors and indoors, so that's another big part of my life. I exercise a lot, so I'm physically fit. My COVID experience and research have brought me more in tune with excellent nutrition, supplements, exercise and diet."
What's next for this allied traveler? With more than 22 years of travel experience, Wendell isn't done yet. He said there are still more places to explore before retirement, including the Dakotas, Hawaii, Colorado and other areas of Florida.
READY to make your own lifelong memories on travel assignments with Med Travelers? Just apply online, and our recruitment team will get you on your way!