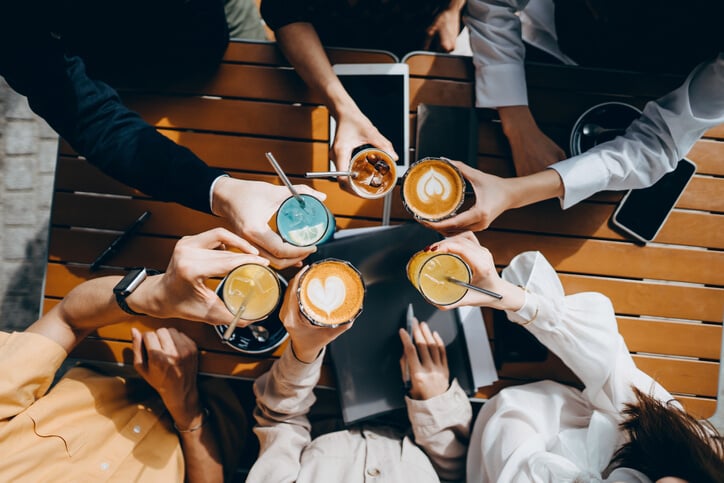 The Hammer Says Goodbye
"In my professional career, I found an incredible smorgasbord of bosses, co-workers, business models, marketing and sales strategies, etc., etc., etc. (good, bad, great and mediocre), and I probably "gouged myself" or at least was never undernourished and therefore found a career most satisfying and one that will always bring fond memories; and finally the privilege of working with an incredible "Family" called Advanced Medical that truly embodied what a group of wonderful people trusting in each other can accomplish – Royal Lantz."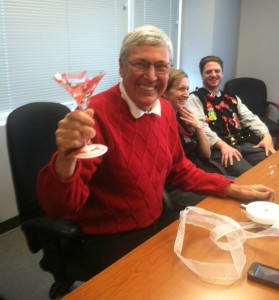 Writing a retirement tribute can be a tricky endeavor. Try to use too much humor, and it can come off as glib, while striving to be sentimental can easily slip into the mawkish territory. Furthermore, the task takes on an elevated difficulty when attempting to capture the remarkable career of our outgoing CFO, Royal Lantz.
A product of small-town Ohio (we are talking really small), Royal was a magnetic presence in Smithville, where he starred in multiple sports and went by the nickname "Butch." He stuck around his beloved Buckeye state to attend Muskingum College (now University), where he met his future wife, Wendy. Fun fact: Royal was a good friend and fraternity brother with noted zoologist and television personality Jack Hanna at Muskingum. From there, it was on to Columbus, Ohio, to start a career and family – I guess this is where I give the obligatory "full disclosure" tag since that family would include myself and our cherished CEO, Jennifer Fuicelli. Apparently feeling that Ohio was too hip, Royal moved us all to the wheat fields of Kansas, where he became a successful marketing manager with AT&T/Sprint. Then in 1978, the land of the mouse called Royal got transferred to Orlando, Fl, where he would stay for the rest of his working life.
Royal branched out into the field of corporate outplacement, where he worked with companies to help executives find new work after layoffs. His skill-set was a terrific match for this field as Royal combined diverse business experience with a character trait all too lacking in today's business world: empathy. His ability to truly listen informed his astute judgment and resourceful problem-solving. Royal understood the value of "calculated" risks and the benefits of learning from mistakes without looking back as he launched his first successful entrepreneurial venture in consulting. Jumping ahead, his talents found an ideal home with a small start-up called Advanced Medical. Working alongside his daughter proved to be an optimal situation despite some highly spirited (healthy) debate – we are talking family here! The company was filled with positive energy and youthful optimism, yet lacking in the gravitas department. Think of it like that high draft pick that does everything right but the fundamentals. Here, Royal delivered poise and wisdom while teaching the millennials that e-mails don't equal handshakes and style means little without substance.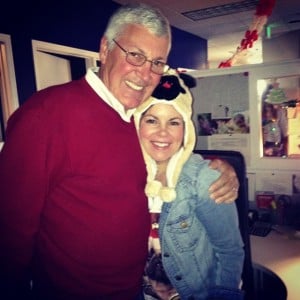 As CFO, he understood the importance of fairness, honesty, and trust. It can be a cliché to describe a boss as "tough but fair," in Royal's case, it could be more accurately said that he was "tough but generous." Nicknamed The Hammer, probably in jest more than anything, Royal never treated anyone like the nail. More accurately, he probably fits the backside of a hammer since he was constantly pulling people out of trouble with his sincere compassion. His glowing sense of camaraderie was evident at every corner. Whether sharing a beer at our renowned "cart," leading the charge to a Daytona Cub's game, or delivering the perfect speech at our annual Christmas party, Royal provided the heartbeat for our young troops. His weekly "tip of the day" orations inspired and motivated, if at times bordering on hokey (which made them highly entertaining).
Reading this may cause one to think that Royal was all unicorns and rainbows, but he could be assertive, even a bulldog at times. These traits were on full display in the area of the deal closing, especially an astounding ability in the collections arena where Royal would demonstrate a dogged drive to connect. Invariably he would finally get the right person on the phone, and his tenacious attitude would melt away to be replaced by his distinct mid-western genuineness. With every business dealing, he brought a unique blend of toughness and tenderness. Royal Lantz leaves an astounding legacy at Advanced Medical. His cheerful and assured leadership has brought this company to stratospheric heights. From marketing to sales and over to quality assurance, there isn't a department here that hasn't immensely benefited from his presence (okay, fine, maybe not IT).
Like the theme song from his beloved Cheers, I think I speak for all of us in saying we will always have a cold beer waiting and here "everybody will know your name." Warning: this is where I may veer into that maudlin tone I warned about. Earlier I alluded to the fact that I am indeed Royal's son. Working by his side has been one of the great joys of my life, and it's difficult to put into words my immense admiration for his path of love, loyalty, and integrity. Royal – Let your later days bring a sweeter swing (or a new hobby), earlier dinners (safe prediction there), smiling grandkids (sure are enough of them), and continued glory for the scarlet and gray. In attempting some modicum of professional distance, I have always called you Royal within company walls.
Perhaps that's why it feels so good to say, "happy trails, Dad" I love you.