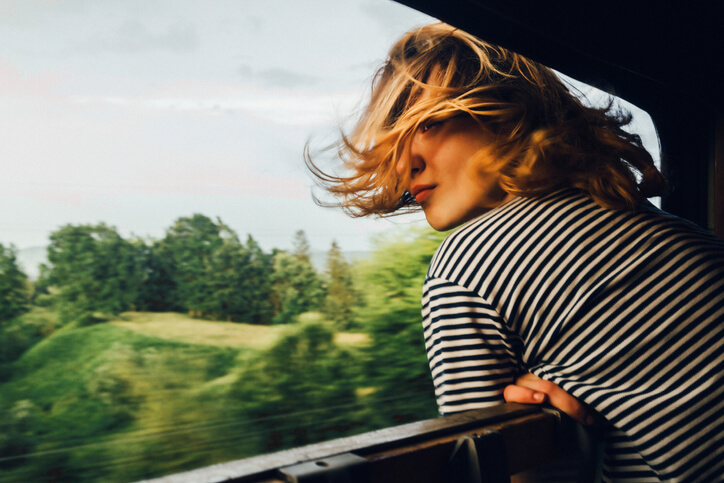 21 Travel Quotes: Inspiration for Allied Healthcare Travelers
By the Med Travelers team
Why do people travel?
To break from their routine, try something new, find adventure, meet new people, gain a new perspective and discover themselves. The reasons are almost endless. Travel has been inspiring people for centuries, and the desire to truly experience new places is the impetus for many who choose to become allied healthcare travelers.
If you're looking to revitalize your personal life and career, consider the possibilities that travel jobs offer. A typical allied travel assignment is 13 weeks, and the road trips to and from your destinations can be a big part of the adventure. This gives healthcare "travelers" several advantages over mere "tourists."
Need more motivation? Use the following travel quotes to help you feel inspired.
DISCOVER the joys and opportunities of <allied healthcare travel>.
15 favorite travel quotes: Why people travel
"Travel has a way of stretching the mind. The stretch comes not from travel's immediate rewards, the inevitable myriad new sights, smells and sounds, but with experiencing firsthand how others do differently what we believed to be the right and only way." – Ralph Crawshaw.
"The world is a book, and those who do not travel read only one page." – Saint Augustine.
"The impulse to travel is one of the hopeful symptoms of life." ―Agnes Repplier.
"Travel changes you. As you move through this life and this world, you change things slightly, you leave marks behind, however small. And in return, life – and travel – leaves marks on you." – Anthony Bourdain
"For my part, I travel not to go anywhere, but to go. I travel for travel's sake. The great affair is to move." – Robert Louis Stevenson
"To get away from one's working environment is, in a sense, to get away from one's self; and this is often the chief advantage of travel and change." – Charles Horton Cooley
"To travel is to live." – Hans Christian Andersen "We travel, initially, to lose ourselves, and we travel, next, to find ourselves. We travel to open our hearts and eyes. And we travel, in essence, to become young fools again—to slow time down and get taken in, and fall in love once more." – Pico Iyer
"To my mind, the greatest reward and luxury of travel is to be able to experience everyday things as if for the first time, to be in a position in which almost nothing is so familiar it is taken for granted." – Bill Bryson
"Exploration is really the essence of the human spirit." – Frank Borman
"Please be a traveler, not a tourist. Try new things, meet new people and look beyond what's right in front of you. Those are the keys to understanding this amazing world we live in." – Andrew Zimmern
"The true fruit of travel is perhaps the feeling of being nearly everywhere at home." – Freya Stark
"Certainly, travel is more than the seeing of sights; it is a change that goes on, deep and permanent, in the ideas of living." – Mary Ritter Beard
"Travel and change of place impart new vigor to the mind." – Seneca
"Twenty years from now you will be more disappointed by the things you didn't do than by the ones you did do. So throw off the bowlines. Sail away from the safe harbor. Catch the trade winds in your sails. Explore. Dream. Discover." – Mark Twain
DON'T MISS OUT on your ideal travel job; <SIGN UP for job alerts> from Med Travelers.
6 allied travelers speak: Why we choose to travel
"Getting to experience all of the different areas we've been to and meeting new friends has really been one of the best parts of traveling … I think the experiences you get and the networking available to you when you travel--especially if you are a new grad--can be invaluable. And the pay. We paid off all of our student loans this year and it's allowed us to build our dream home." – David Martin, DPT, "<Family of Six Making Memories with Travel Therapy Jobs>"
"I enjoy everything about travel, like the people I've worked with and learned from during my assignments, by interacting in positive ways with different types of health care professionals … I've hiked from Mexico City to Canada on the Pacific Crest Trail … Travel with both feet on the ground is what I enjoy doing best." – Scott D. Williams, CCC- SLP, "<Speech Pathologist Takes to the Road>"
"If you are considering traveling, I'd say, 100 percent, do it! Whether you are in it to travel or experience new care settings, you have nothing to lose. It is such a great experience." –Amanda Lohnas, PT, DPT, "<Contest Winner Relishes Travel PT Jobs Close to Home>"
"One of the things I like most about traveling is meeting new people from different areas. I also like not knowing what I'm getting into because it presents new challenges.… [allied travel] is a great way to experience the country while earning an income." – Quinn Asaro, PT, DPT, "<Leaving the Big Easy for a New Grad Travel Career>"
"My children hit college age, and I flew the nest. It was a great adventure. I went somewhere I always wanted to explore: along the West Coast. I loved the flexibility and the variety of the subacute and long-term care settings to which I was assigned, and the small towns and cities that I explored. … It was a fantastic experience." – Thresa Kussman, OT, "<Occupational Therapist Loves Road Less Traveled>"
"I want to explore the U.S. and figure out what area of the country I want to live in, and [allied] travel is a good opportunity to do that. Traveling allows me to really spend some time in a place--not just pass through." – Adam Roscioli, PT, DPT, "<Physical Therapist Couple Find Independence Traveling Together>"
SEIZE THE OPPORTUNITY TO TRAVEL and advance your <allied career>! Search <Med Travelers' travel jobs> or <apply now> to get started on your travel adventure.