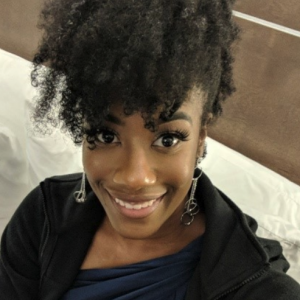 Speech Language Pathologist
Hi, I'm ShaRhonda Wingo, an SLP from a super small town in Mississippi. I studied communicative disorders at USM #SMTTT and completed graduate school at Jackson State University #TheeILove. 
I most certainly did not want to reside in Mississippi long term but had no idea where I wanted to relocate to start this whole 'adulting' thing. So my last semester of grad school I researched a few travel companies and felt a sense of flexibility, honesty, and security with Katie from Advanced. Needless to say Katie has been absolutely amazing since day 1. 
I started my first contract at a SNF in KS directly after JSU posted my degree and my license were approved. 2 years later I've had more experience in multiple settings and have loved every minute of it. 
I can almost certainly say that the lessons, experiences, and relationships I've had/made wouldn't have been possible if I would have remained in my comfort zone! It's easy to get caught up in the what if mentality and let fear captivate you; however, some of your best moments happen when you step away from your safety net. 
I look forward to mentoring New Grads. The nerves definitely can get the best of anyone because everything is so new and different from school.