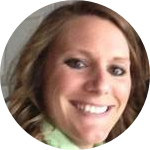 OT & PT
Laura comes to us by way of Rochester Hills, MI just outside of Detroit. She received her undergraduate degree in Kinesiology at Michigan State University.  Laura attended the University of St. Augustine in Florida and earned a dual degree in both Occupational and Physical Therapy. 
After graduation, she worked at a hospital and outpatient clinic in Starke, FL, and then traveled throughout PA. She is currently working in Home Health, but has also extensive experience in Skilled Nursing Facilities with AMN Healthcare. 
Laura fells becoming a therapist was an easy decision for her.  She has a twin sister who also chose a path as a therapist and they always tended to do things "together".  After a semester internship at Michigan State, Laura realized she really enjoyed bother fields of study and found the dual degree program at St. Augustine.  Laura loves being a therapist and calls her sister for advice often (and vice versa).