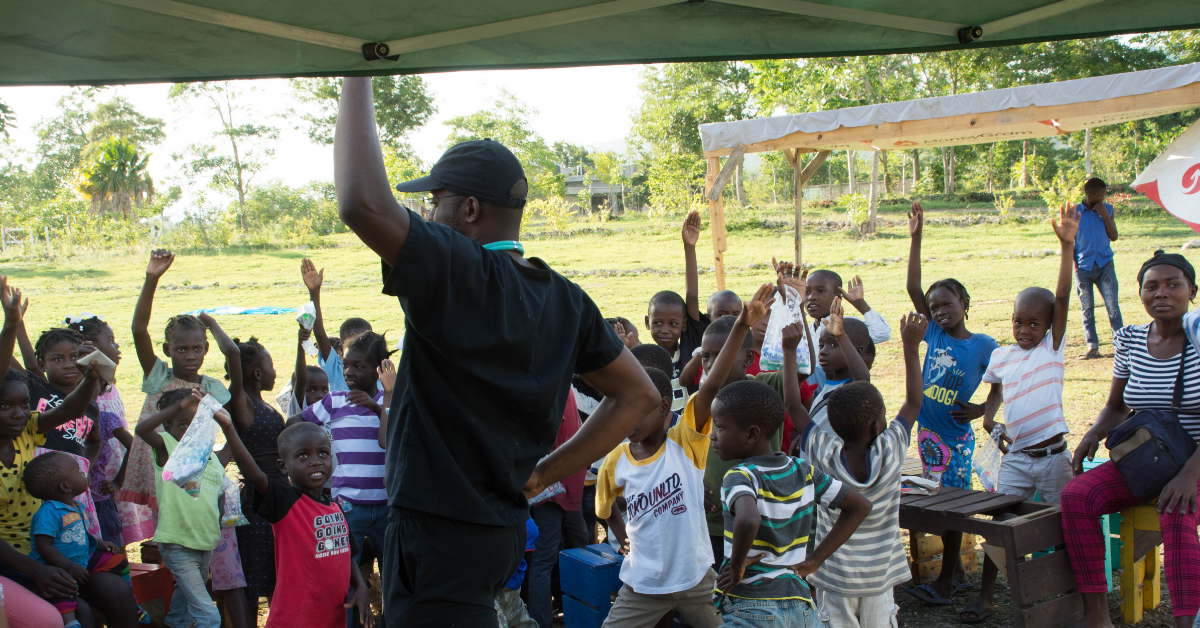 Travel Therapist Couple Take Their Care International
We're really excited to feature a travel therapist pair that use their skills as therapists to volunteer abroad. Reid is a PT and Sherry-Lynne is an OT, and together they went on a volunteer trip to Haiti in May 2018. With 18 volunteers, they were able to see over 500 people in just 5 days!
Get To Know Sherry-Lynne & Reid
Can you tell us about your volunteer trip to Haiti?
We know someone who is a director of a Christian mission in Haiti. We have been supporting financially, but we really wanted to go and see how we can help. The Beehive International, directed by Jonathan Euler, is a mission to help the people of Haiti learn a skill, learn to be healthy and learn of the love of God.
He created a city mission where he has a wood shop and teaches locals how to build wooden pallets. They sell it in the city and part of the money goes to the person to support their family and the other for the mission to continue to work. A couple of years ago, he bought 40 acres about 3 and half hours north of the capital. In this property, he is building a training center for teaching the locals carpentry, agriculture, and health. The is no hospital or clinic near this property so part of the plan is to create a medical clinic to see locals for basic illnesses.
This is where we came in. We created a trip and brought a medical team of 8 including us to Haiti in November, 2017. Between us, in 3 days we saw about 200 people. It was such a great experience that we had to go back. So we raised money and asked more people to come and we returned at the end of May 2018. This time we had 18 people with us, and in 5 days, we saw over 500 people. It is different to do therapy in a developing country, but it expands your mind to the real people and the little needed to make a big difference. We will be going every year and helping in coordinating more missions to this worthy cause.
Being a therapist gives us the "whole person" viewpoint. We think of the context, the roles, and the daily activities of the person and being creative in out therapy session helps us be flexible and creative in helping those who do not have much.
How did you decide on a career in therapy?
As a kid I love helping people when they get a scratch or a bump. I loved looking at my uncle's medical books but I didn't want to be a doctor. By the end of high school, my older sister became a speech therapist so I went to volunteer in therapy to see what they do. When I saw what OT does, it fit my personality perfectly.
Do you have any tips for new grads looking to develop a career in therapy?
Learn it all! Try out different settings, learn, learn learn, then you will naturally gravitate to the niche that you are passionate about. By then you will have learned a lot. Then in your niche you can focus on further training and share it with the next generation by taking interns. You learn a lot about yourself and your skills that way.
What is it like being a travel therapist with your spouse?
We have been married 9 years and have done missionary work together. This came at the right time and it has been wonderful. Though we are in the same setting, living a simply together in a new city has been a fun thing to explore together. We are very blessed and we are excited to see what will come next.
We're proud to work with amazing therapists like Sherry-Lynne and Reid! Thank you for all that you do!