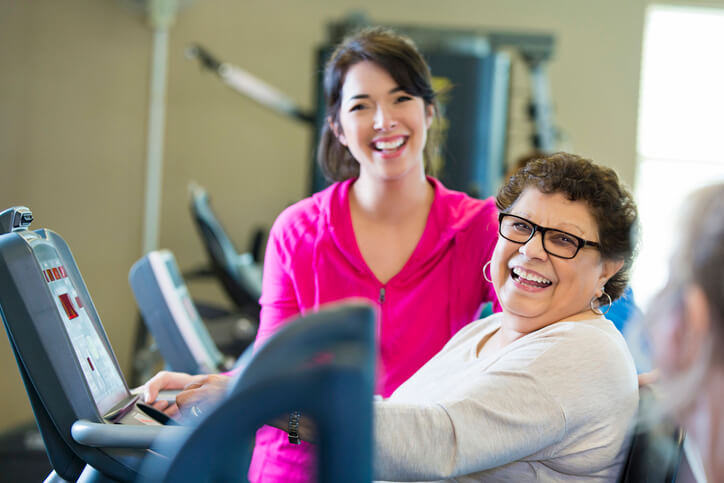 Tactics for Helping Physical Therapy Patients Lose Weight
By Tiffany Aller
Physical therapists often combine various modalities and therapeutic exercises to best help their patients achieve optimized health outcomes. One area in which therapists can provide patient support is enabling weight loss throughout the therapy process. Physical therapy for weight loss can be as advantageous to patients as the techniques designed for rehabilitation. Patients can attain higher levels of health by losing weight, which can also lead to better results in their therapy. Physical therapists can use several tactics that support beneficial weight loss.
To further your career in physical therapy, visit Med Travelers to learn more about travel jobs for allied health professionals.
Physical therapy exercises promote healing while enabling weight loss.
In addition to passive motion exercises and modalities like TENS, EMS, and ultrasound, physical therapists often design workout regimens as a part of the rehabilitation process. For patients who can benefit from weight loss, therapists can build cardiovascular activities into a patient's routine after obtaining clearance from their doctor to participate in such activities.
One new technological option for therapists to use with patients is CAREN: Computer Assisted Rehabilitation Environment. Dr. Lev Kalika, a physical therapist and chiropractor who owns New York Dynamic Neuromuscular Rehabilitation & Physical Therapy touts the benefits of CAREN therapy patients. "CAREN requires patients to do different physical activities while balancing on a moving platform," Kalika explains. "It's quite a workout."
The CAREN system also offers immediate feedback for therapists to track whether muscles are working properly while on the machine. The combined rehabilitative exercises and advanced physical results can become the backbone of both the patient's therapy and weight loss.
Therapists can promote hydration for optimized weight loss.
Dr. Karena Wu, a leading physical therapist who owns ActiveCare Physical Therapy and is a regular visitor on shows like Dr. Oz and The Doctors, teaches that the liquids a patient ingests can make a big difference in therapeutic outcomes and weight loss. "The body is 70 percent water, and it needs to be well hydrated for cellular functions to participate in the healing process," Wu says. "Having patients drink more water helps in the therapeutic benefit and can also make them feel more full, which will help them eat less."
Other liquids may be more harmful than helpful in both weight loss and therapy. Therapists can coach patients on "avoiding drinking during healing," Wu reminds. "Alcohol has an inflammatory effect. Limited or cessation of alcohol can help shed pounds while the body recovers."
Healthier dietary choices can bolster physical therapy for weight loss.
While physical therapists can't replace the work done by dietitians for their patients, they can become familiar with common dietary advice to support patients in their weight loss journey. Melinda Hemmelgarn, a registered dietitian and owner of Food Sleuth LLC suggests the following advice that physical therapists can share with their patients. First, Hemmelgarn says, "I encourage my patients to give up soda — regular and diet drinks." That falls directly in line with Dr. Wu's advice for patients to prioritize water over other drinks for optimal hydration and weight loss.
Next, Hemmelgarn suggests "avoid fast food and processed foods." Those meals may be convenient and filling, but they also inhibit the body's ability to lose weight. Instead, she encourages patients to "eat more fruits and vegetables and other high-fiber foods." Doing so can positively affect a patient's metabolism and support weight loss.
In addition, Hemmelgarn shares this advice that physical therapists can pass along to patients: "Try intermittent fasting; specifically, fast for at least 12 and preferably 13 hours each night." She goes on to explain that "if the last meal at night is at 6:00, have breakfast the next day at 7:00 a.m." Finally, she circles back to healthier drink choices and their interaction with meals. "Drinking unsweetened tea, water, and black coffee is fine during the evening. Better to eat during the first part of the day, rather than late at night, in keeping with circadian rhythms."
Support patient weight loss with referrals to dietary specialists
While physical therapists can design rehabilitation exercises to benefit weight loss and advise professionals on food and drink choices, additional support may be necessary. John Baio of John Baio Physical Therapy opines that "most patients are honest about their weight loss goals, including the fact that their weight loss may help them reduce pain and improve mobility. The crucial step is what a healthcare provider does when their patients acknowledge a need to lose weight. By ignoring this prime opportunity, we are not treating the whole patient."
Instead, Baio encourages therapists to provide advice on drinking and eating habits. After that, "providing the patient with the contact info for a local registered dietitian or other dietary, medical professional is invaluable." Baio goes on to share this advice from the American Physical Therapy Association: "APTA's position is that it is the role of the physical therapist to screen for and provide information on diet and nutritional issues to patients, clients and the community within the scope of physical therapist practice."
Consistent and constant check-ins can support long-term weight loss
Physical therapists have the advantage of seeing their patients regularly throughout the weeks or months they are in therapy. Patient engagement is an important function of physical therapists, forming a rapport that ensures long-term success.
In addition to check-ins during routine therapy exercises, physical therapists can promote the importance of approved cardiovascular activities, hydration, dietary practices, and connections to other professionals like dietitians. This casts the physical therapist in a role as an accountability partner and a cheerleader for each patient's success.
Once a patient engages in healthier choices throughout the duration of their therapy, it's more likely they'll be able to continue making those same good choices after therapy ends. Changes in habits do not take place overnight. Although unscientific articles claim that changes take just 21 or 30 days, science says otherwise. Studies show, instead, that for habit changes to stick, it takes an average of 66 days. Consistent and constant check-ins on a patient's habit changes throughout weeks or months of therapy can benefit patients as the therapy itself.