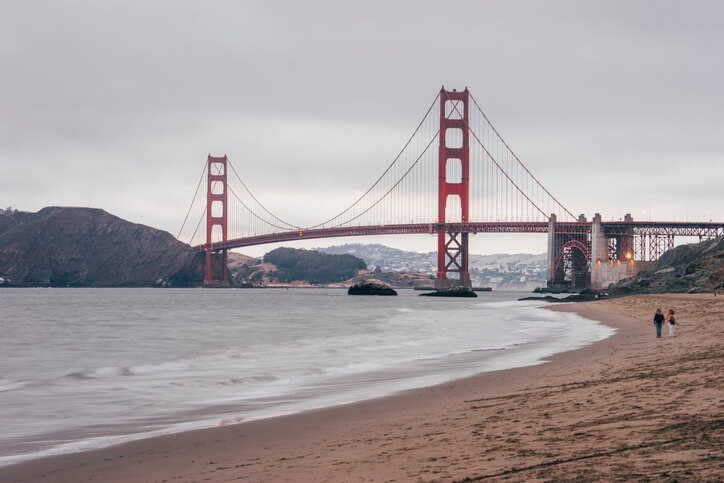 Physical Therapist Couple Find Independence Traveling Together
Assignments with Med Travelers offer professional growth, with time for adventures together
By Megan Murdock Krischke, contributor
Samantha Moyer, PT, DPT, and Adam Roscioli, PT, DPT, are engaged to be married, and both work as travel physical therapists with Med Travelers, an AMN Healthcare company.
The couple started traveling immediately after graduating from physical therapy school.
"I decided to travel directly out of school because I felt it would help me decide what kind of setting I want to work in," explained Roscioli. "I also wanted to travel while I was still young and not tied down. I want to explore the U.S. and figure out what area of the country I want to live in, and travel is a good opportunity to do that. Traveling allows me to really spend some time in a place--not just pass through."
"The biggest challenge was at that first job. I was the main PT in a skilled nursing facility," reflected Moyer. "I don't think I truly realized until I got there how independently I would be working. Not only was I doing my own job, I was managing assistants and aides. It is different from being in a clinic where you are one of several therapists. I was on my own and it put my skills to the test. But that was also a benefit--I felt I could grow so much more because I wasn't relying on someone else and I had to figure out things on my own. It is good to know I can handle those situations."
Since that first assignment, the two have been working in home health. Moyer notes that that first position really prepared her for the problem solving and independence she would need in the home health setting.
So far, Roscioli and Moyer have taken travel physical therapist assignments in Iowa, Texas and Maryland and they will soon be headed to Washington State.
"Traveling as a couple has made it a little more challenging because there are locations we are interested in that only need one therapist, but our recruiter has been really good at finding us spots," said Roscioli. "I enjoy the excitement of moving to a new location and exploring what is around there. There is always a sense of anticipation about experiencing a city and the climate and geography."
The couple enjoy taking side trips together and say that their favorite trip so far was visiting the South Dakota Badlands while on assignment in Iowa.
"One of the most fun and rewarding aspects of traveling is meeting so many different types of people and to have the opportunity to grow in how I communicate with those different cultures and people," said Moyer.
She also noted that working in home health allows a therapist to be more personal with patients; they want to be there, to do what you ask--they are more accepting of your services that some in the skilled nursing environment.
"Our assignments have been in places where we have really been needed, and it is nice to help a cause for a little while. It is good to work in an environment where you are wanted and needed," said Roscioli.
He credits his travel experience with improving his résumé. His assignments have provided experience working with different companies, different mentors, different personalities and different documenting systems.
"I would say, if you can travel, give it a try for some time because the experience really does teach you to be a better clinician. You are working with different people, you are adapting and becoming more well-rounded," encouraged Roscioli.
---
Find your next travel assignment with Med Travelers. Sign up today to receive free <job alerts> in your specialty, by text or email.
© 2015. AMN Healthcare, Inc. All Rights Reserved.