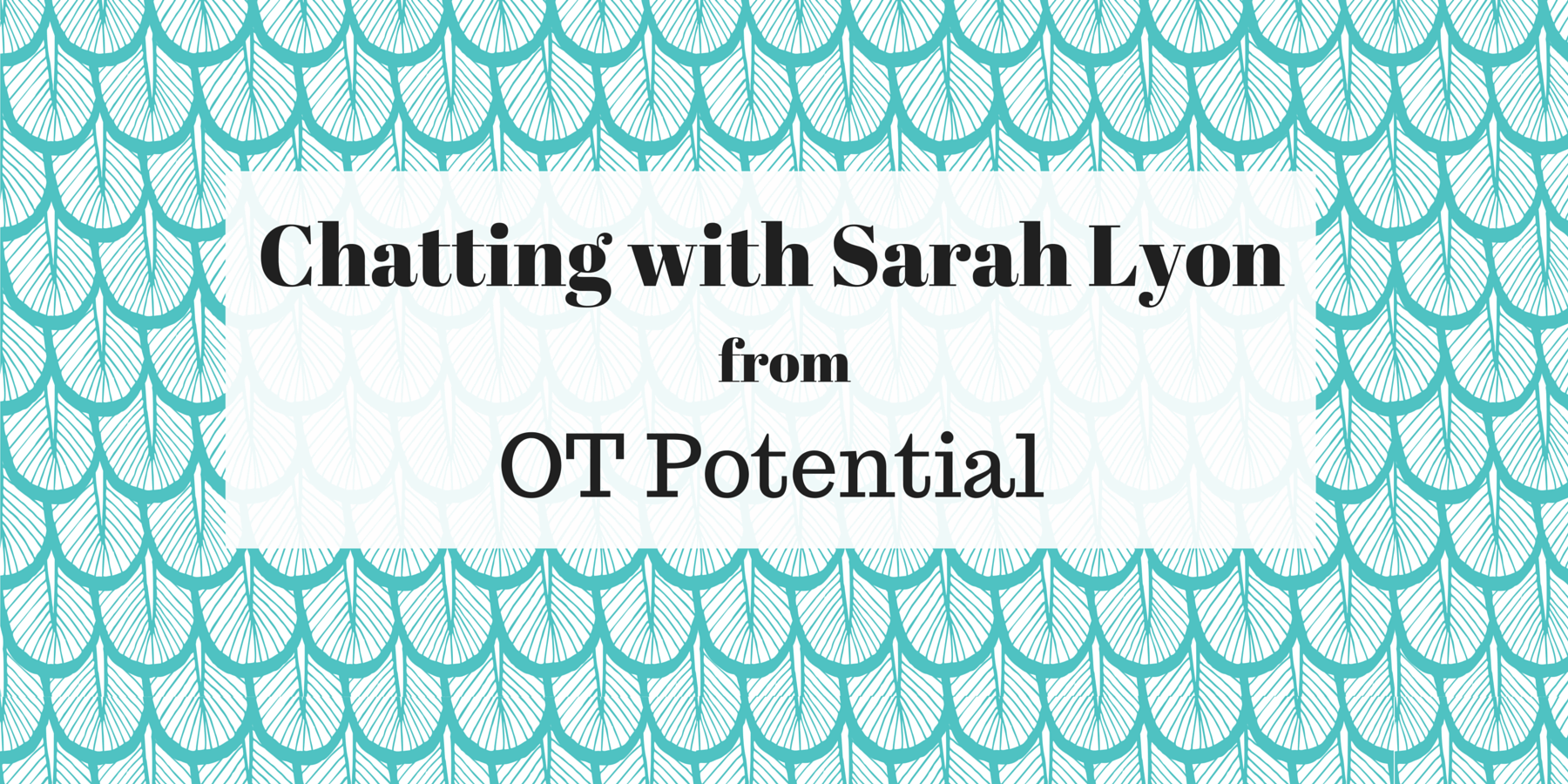 Chatting with Sarah Lyon from OT Potential
Posted by Ryan
If you're an OT looking to fulfill your potential, then you owe it to yourself to check out the terrific site otpotential.com. A bountiful gathering of OT resources, community forums, and informed articles, OT Potential shines in its ability to educate and inspire. The site is authored by our friend Sarah Lyon, who is also the OT expert at about.com. In addition to her prolific writing, Sarah has practiced in a variety of hospital settings. Sarah was gracious to share some insight on her work. Keep reading for an edited excerpt of our conversation.
Hi Sarah, I want to start by complimenting you on the terrific community you've built. Labeling it just a "blog" would be like a waiter only mentioning the dessert menu. Can you tell us where your inspiration for the site came from and how the project got off the ground?
I graduated from New York University in 2011 and left the bustling city for a job in my hometown in rural Nebraska. I was the only OT on staff and was highly dependent on online OT communities for support. There were not nearly as many resources out there as there are now! I felt like I was always spending precious patient care hours researching best practices and building systems from scratch. This was frustrating because I knew there were OTs around the country doing similar work to me, but I didn't have a way to connect with them and leverage their work. Within a few months at my first job, I knew I wanted to create a hub for OTs to share resources.
From merchandise and job listings to career advice and informative blog posts, OT Potential covers many real estates. Did you always envision the site being a comprehensive resource?
I wanted to create a hub and offer some solutions to some of the challenges I was personally experiencing at work, but in the beginning, I didn't have a clear vision of how to do that. Nevertheless, I decided to take the plunge and start blogging.
My first product was occupational therapy shirts. I needed a solution to the simple problem of always identifying myself as an OT and explaining my role. I wanted a shirt that I could wear as part of a business casual uniform. So I created a high-quality shirt that I could wear regularly and hopefully helped me stand out from the other professionals visiting patients.
Things have grown from there. I've expanded to offering digital downloads and a job board.
One of the things I like about your blog is the reliance on diverse voices supporting your own. The ensemble nature of the site gives it a particular vibrancy. What is your approach to cultivating versatility in views and topics?
Diversity of voices is an aspect of my website that I am trying to cultivate! The reason is two-fold. First, I am not an expert in all areas of OT, but as a practitioner, I've frequently felt called upon to be a jack-of-all-trades. For example, I don't consider myself an expert in seating but have helped many clients with seating-related issues. Through the site, I try to connect everyday OTs with experts in their practice area.
The second reason is that I want the Potential to reflect the diversity of the profession! When I first started, I relied on friends for content. But, this strategy left me with content that came from my own demographic– young, white, female. This does not represent the full diversity of our profession whatsoever. I am currently making a concerted effort to include more voices.
Our crack research team (me using google) discovered that you're the "OT expert" at about.com. How did that come about? Are the inquiries predictable, surprising, frustrating, or all of the above?
Since my site has been active for several years now, it is pretty easy to find on Google, which means I do get hit with regular requests.
The About.com occupational therapy expert role has been one of the best, unexpected requests. Starting about a year ago, I began writing 8 articles a month for them. This has been a great opportunity because the target is the general public. (The best therapy sessions happen when the OT is at the top of his game and the client is well informed about the services they are receiving.) About.com has recently rebranded its health section into a new site called very well, where you can find these articles, written by myself and other talented guest writers.
I feel like your site is perfect for new graduates. At Advanced Medical, we are proud of our new grad program that offers tuition rewards, a customized free CEU platform, and substantive mentoring. Can you tell us about your new graduate experience as an OT and whether mentoring played a role in your development?
Substantive mentoring is exactly what I wanted when I left school! Throughout our education, our professors encouraged us to seek mentorship when we entered the workplace. I mentioned above that at my first job, I was the only OT… the longer story was that when I signed on, there was an OT that I was excited to work alongside. Still, family obligations and a new job quickly prompted her to transition from the institution.
Working by myself, I needed mentorship more than ever, but I had to alter my expectation of what that would look like. I wrote a blog post about the experience here.
Whether it be alternative payment models (fee for service vs. value-based care), therapy caps, manual medical review, or the role of OT in mental health; can you tell us about some of the national legislative/regulatory issues that concern you or alternately have you feeling optimistic about the future of occupational therapy?
Hands down, the thing that makes me feel most optimistic about our profession is the number of smart, passionate practitioners who are currently working in and about to enter the field.
The thing that concerns me the most is getting swept up in all of the changes happening in the medical field right now and losing sight of the critical objective of offering the best care possible to patients during our time with them. Offering stellar care will continue to take research and develop workplaces that are conducive to best practices. We cannot let changes in our medical system make us lose sight of our patients.
Having shared your blog posts with our recruiting team, I feel it is essential for recruiters to gain a true appreciation/understanding of the therapy industry. Can you share with us your thoughts on what makes a good recruiter and any advice you may have in ensuring the recruitment process works to the maximum benefit for OTs?
When I graduated with my master's, I watched as friends in other fields have difficulty find work. This has never been the case for me. When I've been searching for jobs, I've always had more than one job offer. At least weekly (sometimes it feels like every day), I get an email/phone call/mailer with a new job opportunity. While this is not true of every part of our country (it sounds like Florida is currently hard to find a job in), most OTs have the experience of being highly sought after.
This means that most OTs have the opportunity to look at more than just salary and benefits. They want to find settings where they are valued and can make a difference. When I interview OTs for my site about their particular practice setting, I started asking what they think a fellow OT should look for when considering a similar practice setting. Here are some examples of questions they recommend that are digging to understand the culture of the organization and how they would fit into it:
What growth opportunities exist?
How does the rehab department fit into the economy of the organization?
How is OT regarded and viewed professionally within the rehab department and organization as a whole?
Are OTs involved in care conferences with the patient and families?
Huge thanks for your time Sarah. Advanced Medical looks forward to continuing the conversation soon!