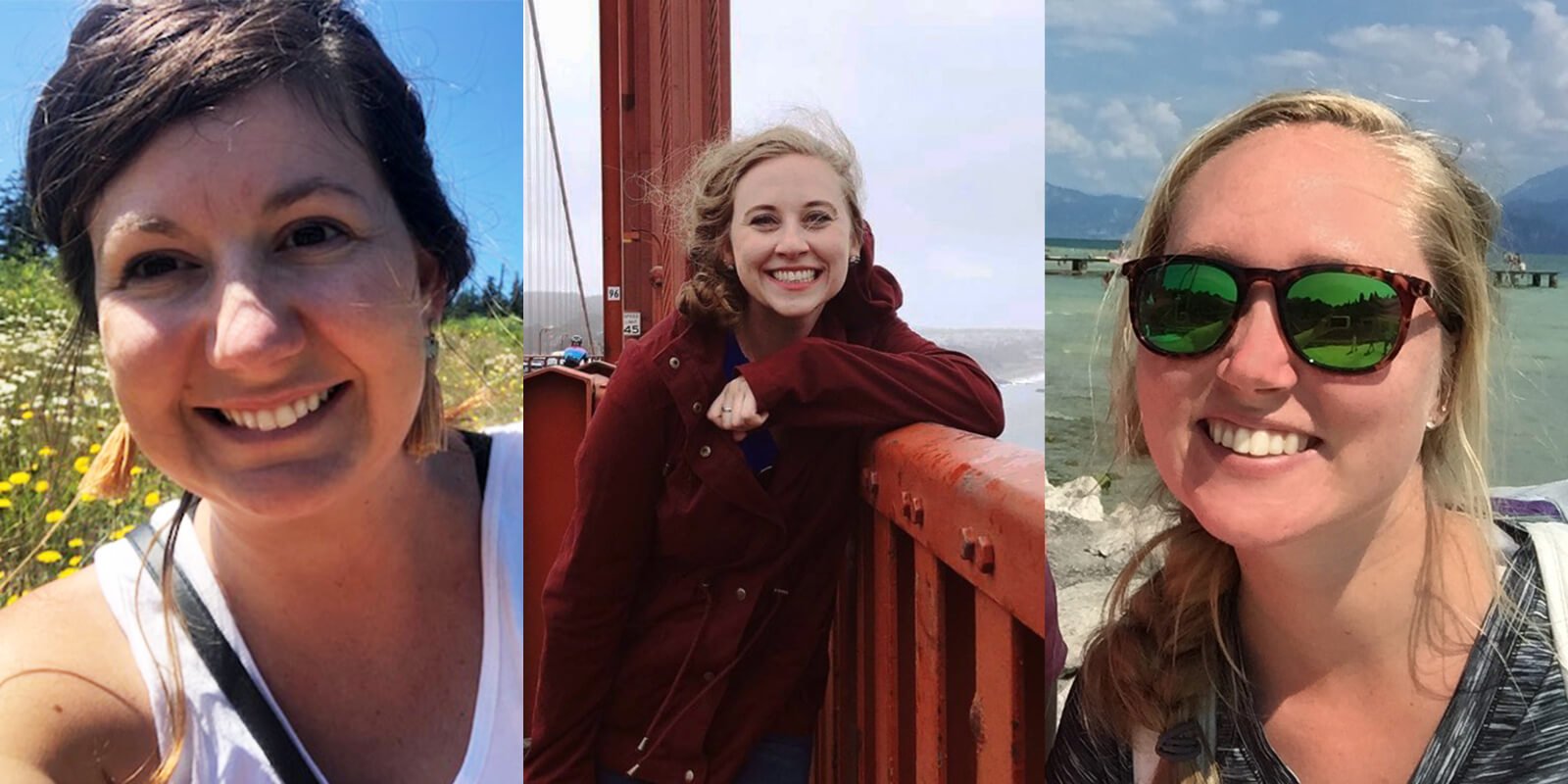 OT Month Spotlight: Kathryn, Heidi & Molly
Posted by Kate Hawes
We are continuing our OT Month celebrations with a special three traveler spotlight! Featured are Kathryn, currently stationed in coastal Oregon, Heidi, on assignment in New York, as well as Molly in Washington. All three OTs discuss their travel experiences, from rewarding moments to biggest challenges, and reveal their dream dinner guests!
Kathryn F, OT in Oregon
What inspired you to become an Occupational Therapist?
I have loved helping people as long as I can remember. I was inspired to become an OT when I worked closely with a young child with Autism for a few years. I knew that I wanted to continue to help people in the medical field.
Most rewarding moment in your OT career?
There have been many! Meeting goals big or small- tying shoes, using adaptive equipment, recovering strength to participate in life's daily tasks. But really at the end of the day- it's about connecting with people.
Greatest challenge in your career thus far?
Currently, I'm in coastal Oregon, in a pretty small town. We have tested patients, stepped up our PPE use, have been sanitizing EVERYTHING, etc. Our caseload has dropped significantly, but we are hanging in there.
Favorite location you've traveled to?
Coastal Oregon! The natural beauty of the coast is unparalleled. There are so many adorable coastal towns, people are so friendly, and there are state and national parks within a few hours.
If you could have dinner with one person, dead or alive, who would it be?
Ruth Bader Ginsburg or JK Rowling!
Heidi M, OT in New York
What inspired you to become an Occupational Therapist?
Occupational Therapy is a fascinating career as it can be applied to almost all facets of life. This was one key factor in my decision to become an occupational therapist, because the possibilities are endless from the setting, to the population, to the treatment approach. Regardless, as an occupational therapist, you are equipping patients with tools to live their lives to the fullest.
Most rewarding moment in your OT career?
While providing services in a skilled nursing facility, I was able to work with a patient recovering from a stroke. The patient had lost function on the right side of his body, which was his dominant side. At the beginning of his treatment, he was reluctant to use the side of his body that was no longer functioning. By building rapport with the patient and his family, by the end, he was able to move from his wheelchair to his bed. The day this happened, I had never seen him smile so big.
Greatest challenge in your career thus far?
Working as an occupational therapist during COVID-19 has been an adventure. As I'm currently working in a school setting, the physical school buildings were closed and then the real challenge began of providing remote services to preschoolers. Every day the information was changing, and the learning curve was immense as all related service providers were working through this version of teletherapy. The best part of the situation was being able to see the students again, even if it was virtual because they were excited to see me. Although they cannot fully express their feelings, from their facial expressions it seemed like some bit of normal returned to their day as they saw a familiar face.
Favorite location you've traveled to?
New York City! My current school placement in New York City has been something I have always looked forward to. Growing up near NYC, I always dreamed of working in the bustling city. Now I get to see the wide array of diversity on a daily basis!
If you could have dinner with one person, dead or alive, who would it be?
I would love to have dinner with the cast of Friends, but if I had to pick just one cast member it would be Matt LeBlanc, just because I loved the character of Joey.
Molly P, OT in Washington
What inspired you to become an OT?
I was inspired to become an OT by my fabulous aunt who is a PT and encouraged me to shadow an OT she worked with. I was drawn to how creative and fun she made OT look. You get to help people engage in the activities they need and want to do. What could be better than that?
Most rewarding moment in your OT career?
In my first year of practice, I worked in an assisted living facility in rural NC. One day I brought in crochet hooks to try with a new patient with dementia who the staff was having trouble engaging. She rarely spoke, often was agitated, and had recently fallen in her bathroom. The patient's sister has said she enjoyed crochet in her younger years. When I gave the hooks and yarn to the patient, she immediately went to work and crocheted a nearly complete Christmas ornament in 15 minutes. People contain multitudes and using their interests and personal experience can unlock doors. I was able to work with the staff to build more meaningful activities in to her routine and improve her comfort and familiarity in her new environment.
What has it been like working during COVID19 as an OT?
Working as an OT during COVID-19 has been a unique and challenging experience. I work for a school system in the Greater Seattle area very close to the origin of the pandemic, and we were given less than 24 hours notice before all the schools were closed. I have students on my caseload with challenging home lives and social circumstances, but I've been amazed at the teamwork of special educators, administrators, and parents in our region pulling together to get students learning materials and basic necessities. As an OT, I've been helping my students and their parents set up assistive technology at home, develop consistent routines and modify workspaces, and creatively use items in their home to address their IEP goals. Although I have drawn on some telehealth literature, there's no how-to manual for OT service delivery in a pandemic. This uncertain time has called for flexibility and inventiveness, which are fortunately qualities OTs have in spades!
Favorite place travelled to?
Washington, of course! Mountains, beaches, deserts, incredible wildlife, amazing coffee, bookstores, and volcanoes all in one state?! Yes, please! I love this place.
If you could have dinner with one person who would it be?
If I could have dinner with one person, it would be my mom because she lives 3000 miles away!
Now you've gotten to know three of our travelers a little better and learned what being an OT means to them. Join us in a show of appreciation for Kathryn, Heidi and Molly and make sure you thank the other OTs in your life for all that they do!