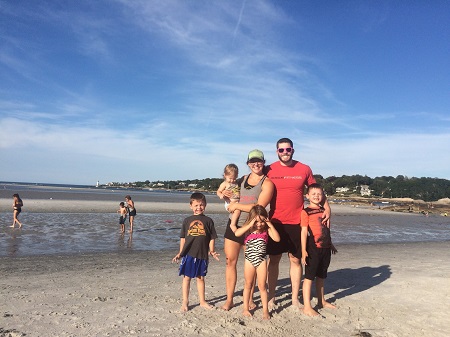 Family of Six Making Memories with Travel Therapy Jobs
Travel physical therapist enjoys family adventures, career growth, and financial rewards.
By Melissa Wirkus Hagstrom, contributor
What started out as a strategic career move to earn a higher physical therapist salary turned into a long-term life adventure for David Martin, DPT, and his family. After graduating in 2008 and gaining some experience in outpatient work, he first tried his hand at travel therapy jobs. He then worked in staff positions before he and his wife decided it was time to get back on the road.
He now works travel PT jobs with Med Travelers, an AMN Healthcare company, as a home health care physical therapist, and reports that the travel experience continues to enrich their family life.
[FIND <travel PT jobs> in your favorite locations.]
Family finances, fun, and education
"A big part of my reason for starting to travel was the pay," he candidly explained. "We wanted to hit some big financial goals of paying off school loans, and we decided there is nothing tying us down to one location, so it was the perfect time to travel and make some extra money." David proudly travels with his wife and four kids--two girls and two boys, ranging in age from 18 months to 8 years old. His wife homeschools the two oldest children, and the family's travels allow the kids to gain valuable educational exposure to national parks, historical sites, museums, and more.
"We do a lot of schooling on the road, and we get to see different areas of the country and learn about local history. We love getting outdoors and going hiking and doing science activities in nature." Martin and his brood travel from assignment to assignment in a trailer and then find rental accommodations wherever the next contract takes them. They choose the housing stipend from Med Travelers--instead of the free, company-provided housing--to cover most of the costs.
Martin credits his travel therapist career and his practice setting with allowing him to have an unusual amount of freedom and flexibility.
"I went into home health because I decided I wanted to be more intentional with my family time. It allows me to flex my day and allows me to meet my goals of both a good career and a good family work-life balance."
[RELATED: <Dispelling Five Myths About Home Healthcare Jobs>]
Career growth from varied PT jobs
Travel therapy jobs have helped Martin enrich his physical therapist career and expand his skill set. "At a lot of the rotations where I've been, you meet new clinicians, and you are able to pick up techniques from them as you discuss different patients. Being able to work with different colleagues across the country allows you to expand on some of your evaluation techniques and treatment styles. You can serve as a mentor to others or learn from more experienced clinicians."
During his time traveling with Med Travelers, David has taken PT jobs in a variety of Northeastern locations, including several stints in Boston and the western part of Massachusetts; Binghamton, N.Y.; and Myrtle Beach, S.C.
Building a dream home and making friends in new places
"We like the balance of spending some time in nature and then being close to the city to take in the sights there," Martin said. "Getting to experience all of the different areas we've been to and meeting new friends has really been one of the best parts of traveling."
The family maintains their home base in Pennsylvania and are currently in the process of building their dream home--just one of the many fruits of his travel therapy career. The family's next assignment will be close by in Corning, N.Y., so he can oversee the construction process.
When Martin and his family are not exploring the outdoors and taking in the sights of each place they visit, you can usually find them at a community gym.
"We always try to find a CrossFit gym wherever we go, and it's been a good way to meet some local people. We love being active and working out, and they've always been able to point us in the direction of good local things, kind of off the beaten path," he said. "We've been able to make a lot of cool connections that way."
Working with a travel therapy recruiter
"Med Travelers have always delivered on what they say, and they've never let me down with pay expectations. My recruiter, Kalie, has been awesome! A lot of my colleagues and classmates my age all have families, so it's a little harder to convince them that they could do travel work, but any opportunity I get to share about travel, I always try to get them in touch with my recruiter."
He urges other travel therapists to find out all they can, communicate openly with their recruiters, and make sure their needs are being conveyed. "Don't be afraid to ask a question, no matter how silly of a question it might seem. If it's important to you, it's important to your recruiter," he said.
There are several professional and personal benefits to a travel PT jobs, Martin concluded.
"The experiences you get, and the networking that's available to you when you travel--especially if you are a <new grad>--I think that can be invaluable. And the pay. We paid off all of our student loans this year and it's allowed us to build our dream home; it's just been a great way for us to do that and accomplish some financial goals! It's incredible some of the things you can do when you put your mind to it."
<TALK to a Med Travelers recruiter> about your goals, or refer an allied healthcare friend and earn a cash bonus!
© 2016. AMN Healthcare, Inc. All Rights Reserved.