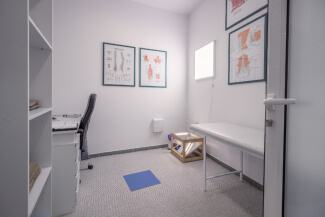 EMR for Physical Therapists
Electronic medical record technology has gained traction across the industry since the Centers for Medicare & Medicaid Services launched its EHR Incentive Programs in 2011. Since then, physical therapists may have found themselves learning new programs with each job or facility change, and all that tech knowledge can be good for your career.
Find out why EMR skills are a must in your career before browsing PT job listings at Med Travelers, where you can find travel allied healthcare jobs in locations throughout the country.
Why EMR for Physical Therapists Is Important
Electronic medical records have wide-ranging benefits for patients and healthcare providers in a variety of niches, and EMR for physical therapists can be especially beneficial to PTs looking to increase positive outcomes and work within broader care teams.
Electronic records let you:
Record PT notes in a standard format, ensuring more accurate documentation and information that can be understood by other healthcare providers
Improve patient compliance with exercise programs and home care via EMR patient portals
Share information about the patient's condition and recovery with a comprehensive care team, ensuring faster, more accurate diagnosis and treatment
Most-Used EMR Systems for PTs
Clinics and hospitals are free to use EMR software of their choosing, as long as it's certified (in cases where the provider accepts federal insurance). Hospitals may use a single system to manage patient records, and some larger facilities opt for proprietary or heavily-modified SaaS platforms that meet specific needs. However, PTs will find that certain EMR systems pop up in clinics throughout their careers. Here are just some of the more common EMR systems for physical therapy.
WebPT, which is a cloud-based solution that includes medical records, practice management, and billing capabilities.
Cedaron Connect, which is a software used by hospitals that include APTA Connect, a rehab-specific documentation module that was created with input from the American Physical Therapy Association.
Practice Fusion was a free EMR that used ad programs to foot the bill, making it a popular choice for smaller clinics. In 2018, it started charging users what amounts to a nominal fee to use the cloud-based system, keeping it an affordable solution for clinics and individual practitioners.
Benefits of Understanding Multiple EMR Programs as a PT
PTs must understand how to use EMRs to document and code patient sessions. Documentation helps ensure the safety of the patient and progress of recovery, and the right coding ensures accurate billing that keeps revenue flowing. These are all things PT clinics and hospitals value, which means physical therapists that are able to jump right into an EMR are valuable employees.
By learning any EMR for physical therapy that you come into contact with, you increase your chances of landing allied travel jobs in facilities throughout the country.