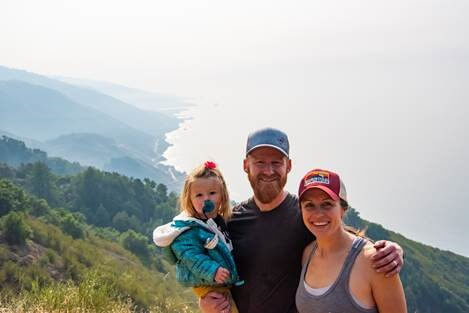 Dedicated Physical Therapist Wins Allied Achiever Award
Physical therapist Traveler Earns the Med Travelers Allied Achiever Award
Enhancing the careers of peers
Physical therapists Stephen and Ellen Stockhausen, both board-certified orthopedic clinical specialists, started traveling five years ago. To keep family members informed of their adventures, Stephen started a blog called PT Adventures. Since then, the blog has greatly expanded to include various types of therapy, how-to articles, a free e-book on housing, and a service that helps peers connect with recruiters. In addition, Stephen has launched a course that teaches therapists how travel helps maximize every aspect of your career.
The blog has earned Stephen great respect and gratitude from travelers across the country.
For the diligence he exudes at every PT travel assignment and the dedication he shows to helping his peers, Stephen was recently awarded the coveted Med Travelers Allied Achiever Award from Med Travelers and AMN Healthcare.
"Stephen received the award because of his dedication to the travel industry," said Kalie Simmons, Director of Recruitment, Med Travelers, who is Stephen and Ellen's recruiter. "He has become an important source of information for travelers on the perks of traveling, whether to become a more well-rounded therapist or to pay off loans and gain some financial freedom. He is transparent, honest, open, and always finding ways to promote therapists to give the home health setting a try. He is a huge proponent of that setting in particular."
Stephen said that other therapists would stumble across his blog and ask about his adventures. And that's what helped shape the content to serve as a guide for people interested in travel therapy.
"We are encouraging folks to consider traveling because it's the best way for therapists to explore the country, make a great living and figure out what's the best fit for you," he said. "Whether you choose a career as a traveler or end up settling at a beach town making a great salary, that's perfectly fine. That's part of what we're trying to communicate to our readers."
A traveling family
Both from Ohio, Stephen and Ellen had dreams of traveling before they met as lab partners in a gross anatomy class at the University of Kentucky. They searched for the right job path, and it became clear after their relationship grew serious during their last semester. They talked to an on-campus Med Traveler recruiter but decided to start their careers with full-time jobs in Colorado.
"We were working very hard and not getting much time off while in Colorado," Stephen said. "The Med Travelers recruiter stayed in touch, and we soon decided it was time to hit the road."
For Stephen and Ellen, traveling gave them the control to live, learn and earn what they wanted.
"With traveling, you can direct your career any way you want," said Stephen. "You burn out of hospital life, then you can go into home health. Or if you're tired of going into patients' homes, you can go back to an orthopedic setting or a rehab facility. If you take a job you end up disliking, you're there only three months and then you can try again."
Stephen also touts the financial benefits of traveling. After just a few years, he and his wife have been able to pay off their student loans and said they would have never been able to do that as permanent therapists.
Traveling has also been an incredible experience for their one-and-a-half-year-old daughter Kinley, who has already racked more miles than many people do in a lifetime.
"As far as traveling with our little girl, it's been super exciting to see her growing up and experiencing all these different things," Stephen said. "She's driven across the country numerous times. She's flown across the country and has been to Hawaii. Everyone asks us if traveling with our little girl is a big hassle. Logistically it's a little bit of a challenge, but all she knows is what you expose her to. And at this point she's just as happy to sleep in her car seat, driving across the country, as she is in her crib in our room. So she loves it."
READY to start making lifelong memories like Stephen and Ellen? Just apply online, and our recruitment team will help get you on your way!