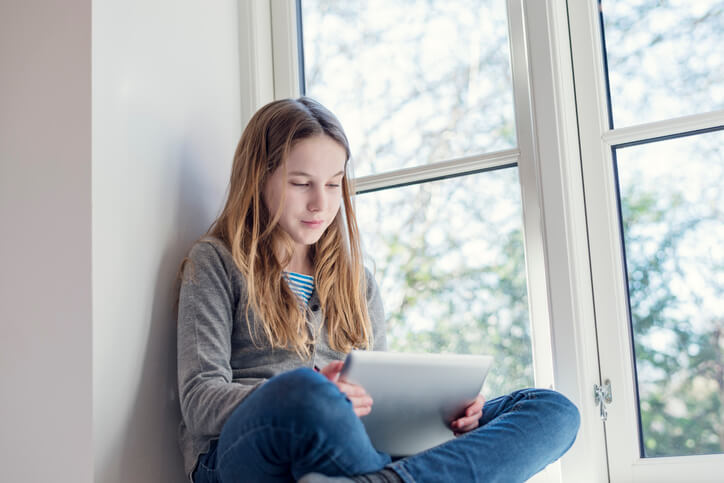 Tips for Virtual Therapy Success in Schools
By Debra Wood, RN, contributor
As the COVID-19 pandemic has changed nearly all aspects of people's lives, provision of rehabilitation services for children is no exception. Many students switched to learning through virtual platforms and are also receiving their therapy remotely.

"The majority of occupational therapists are doing some type of virtual interventions," said Lauren Janusz, MOT, OTR/L, HPCS, owner of Brandywine Occupational Therapy in Wilmington, Delaware, who is seeing all of her school clients virtually.
"Prior to COVID, I had no experience with teletherapy, but from now on, I will always have a virtual platform to be able to treat," added Janusz, a member of the American Occupational Therapy Association (AOTA), "I love working with the kids and talking with parents and supporting the families."

Varleisha D. Gibbs, PhD, OTD, OTR/L, vice president of practice engagement and capacity building at AOTA, reported many school-based practitioners have opted for making telehealth visits.

More than half of the members of the American Speech-Language-Hearing Association (ASHA) practice in the school setting, said Diane Paul, PhD, CCC-SLP, director of clinical issues in speech-language pathology for the association. In March 2020, 95 percent of ASHA members were not offering virtual visits, or telepractice sessions. As of early December, 72 percent report they are now offering high-quality telepractice sessions.

"They pivoted instantly," Paul said. "The use [of telepractice] has expanded and expanded."
Reimbursement for virtual visits

Gibbs indicated AOTA has advocated for reimbursement for telehealth visits for a long time.

"On April 30, 2020, the Centers for Medicare & Medicaid Services announced that during the COVID-19 public health emergency, the agency recognized physical therapists, physical therapist assistants, occupational therapists, occupational therapy assistants, and speech-language pathologists in private practice as eligible telehealth providers under Medicare," said Colleen Fogarty, senior public and media relations specialist for the American Physical Therapy Association. The declaration has been extended tree times and must be renewed every 90 days.
Providing services virtually

With many schools closed or parents keeping children home, telehealth visits have become the norm for many rehabilitation therapists.

"During a telehealth appointment, a physical therapist can assess an individual's movement and make recommendations based on how they perform exercises," Fogarty said. "A physical therapist, or physical therapist assistant under the supervision of the PT, can also observe how patients interact in their environment and provide education to caregivers."

Telehealth can present challenges for rehabilitation professionals. For instance, children with autism may need a parent to serve in an assistant role.

"One of the biggest challenges is getting their attention to a screen," Gibbs said. "But there are huge advantages. We get a look into their life. You get to see what that looks like out of school."

Patients may do well during an in-school session but not follow through at home for some reason. Telehealth visits help therapists get to the source of that difficulty.

"It adds another aspect of care that could be beneficial," Gibbs said.

Janusz said often times the parent has to help, functioning as a therapy aide. Patients must be engaged in the activity, she added. The parent also helps ensure the child is in front of the screen at the correct time. A benefit of virtual visits, she added, has been the parents' understanding of the activities and being a part of their child's progress.

"I always try in my written communication to thank them for the support they are giving the students," Janusz said.

Although virtual visits are successful for helping patients make progress, Paul described providing online services all of the time as exhausting for the SLP.
Tips for teletherapy success in schools

With all of the benefits of teletherapy in schools, how can allied health professionals make the most of these virtual visits?

"I structured virtual sessions in the same way as in-person sessions," said Janusz, who sees patients one to two times per week.

Plan the visit ahead of time and communicate with the client and family ahead of time, Janusz suggested.

Janusz recommends emailing the families, reminding them about the visit and materials needed for the activities that will be worked on. For instance, that may be pencils and a water bottle. She always says if those items are not available, she is prepared to improvise.

The therapy visits take place on a HIPAA-compliant video platform.

She starts visits with a movement activity, maybe yoga or "animal walks" with the patient making sounds and moving like the selected animal. Janusz said this type of activity helps with engagement.

Next will come goal-driven activities. Perhaps putting toys in a bucket while atop a therapy ball to work on posture and crossing midline. And the patient finds it fun.

A fine-motor activity might include playing with play dough.

Janusz also leaves patients with a homework assignment.

Documentation is the same with an in-person visit, with the inclusion of a statement that the visit took place virtually.

"[Virtual visits are] something I have a lot of confidence in offering my clients and students," Janusz said. "It's not going away…. It's exciting."

Med Travelers has assignments for school OTs, PTs, SLPs and other allied health professionals across the U.S.
FIND ALLIED HEALTH JOBS in your field or APPLY TODAY to get started with a recruiter.