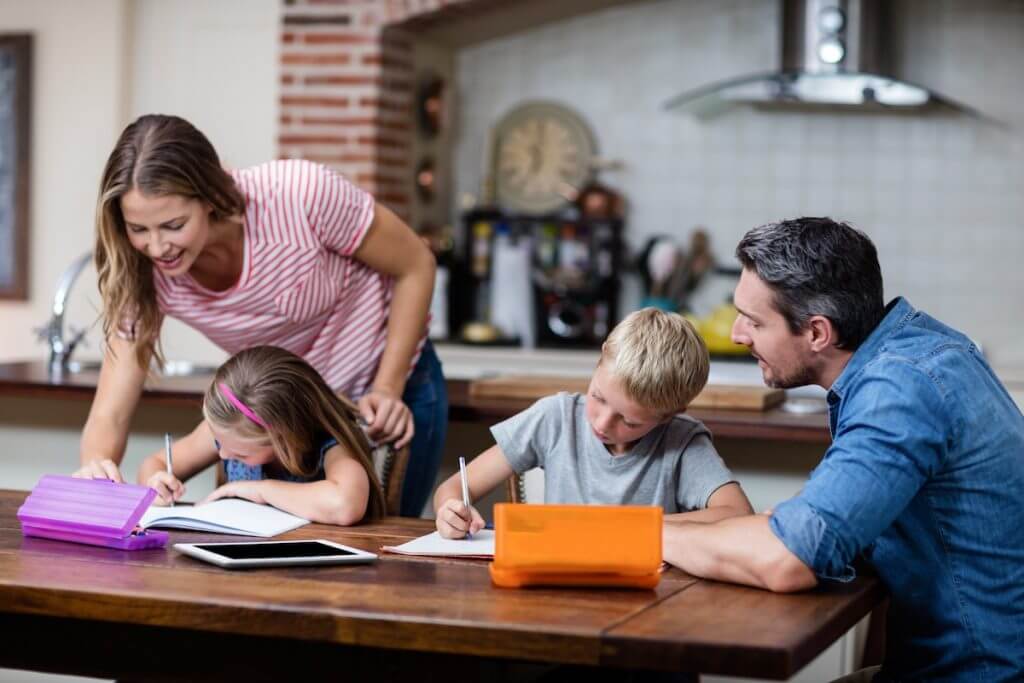 Speech Therapy Home Activities for Parents
Parents and caregivers are some of the most influential educators in a child's life. As Speech-Language Pathologists, it is important we supplement in-school treatment with activities that can be completed at home. Preparing a list of ideas and offering suggestions will help parents and caregivers take ownership of their child's progress. Below are some steps to empower parents with at-home speech therapy activities.
Create a "Home Activities" Library
Whether caregivers ask for home activity suggestions or not, make sure to have a shortlist of activities prepared ahead of time. Start with collecting suggestions from therapy-related Internet sites/blogs, extensions of activities used with students during therapy, incorporating games to supplement home practice, as well as random ideas that come to mind can assist in the creation of home-activity suggestions. Over time, your "home activities" library will grow.
Choose a Suitable Activity
The level of speech/language functioning, cognitive as well as physical capabilities, academic performance, age, and interests should be considered when providing home activity suggestions. Providing activities geared for the child's level of functioning as well as keeping the activities quick, easy, and fun will determine the success of a home-practice approach. In monolingual families, providing the suggestions in both English and the family's first language (whenever possible) is helpful.
Keep it Short with Articulation
Remind caregivers that by practicing only 5 minutes per day, they can help their child develop target sounds more quickly. Suggesting a shorter period of time will help caregivers see that daily practice can fit into an already busy schedule.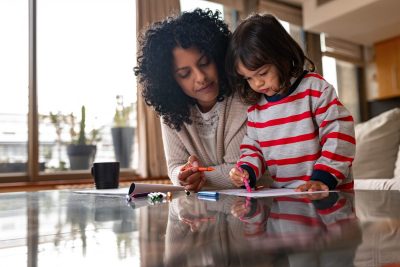 Activity Idea: Send home a coloring sheet of something the child enjoys, explain that the caregiver and child take turns saying the target sound/syllable/word/phrase/sentence, the number of target repetitions per turn, and end the turn by having the child choose one item to color, continuing until the page is complete.
Make it Fun with Language
Provide language activities that may commonly occur at home and keep it fun. This can include asking the child comprehension questions about movies or TV shows (using who, why, how, when question words) or asking the child to describe what they ate for dinner (words describing taste/smell such as sweet, salty, spicy; texture such as crunchy, squishy; and colors/shapes). One popular activity is making pudding together (choosing a favorite flavor, of course), discussing the recipe steps and the vocabulary involved. <See this page for additional ideas>.
Other suggestions can include caregivers asking their child to tell them one thing they did at school that day using descriptive vocabulary: time/when (e.g., at lunch, in the morning), location/where (e.g., in science class, outside), with whom (e.g., my friend-____, Mr. ___, Ms. ___), and what s/he did (e.g., studied, ate, laughed, argued). Then the caregivers take a turn telling the student one thing they did that day using the same concepts. <Download question squares for this activity>.
Many caregivers appreciate suggestions allowing them to practice their child's Speech/Language goals outside of school. Having ideas printed out to give caregivers at an IEP meeting is just one way to empower them. After completing your section of the IEP discussion, hand the parents a shortlist of home activity suggestions written simply and without professional jargon. Whenever possible, provide home activity suggestions that are quick, easy, and fun.
By Traci Sippl MS, CCC-SLP