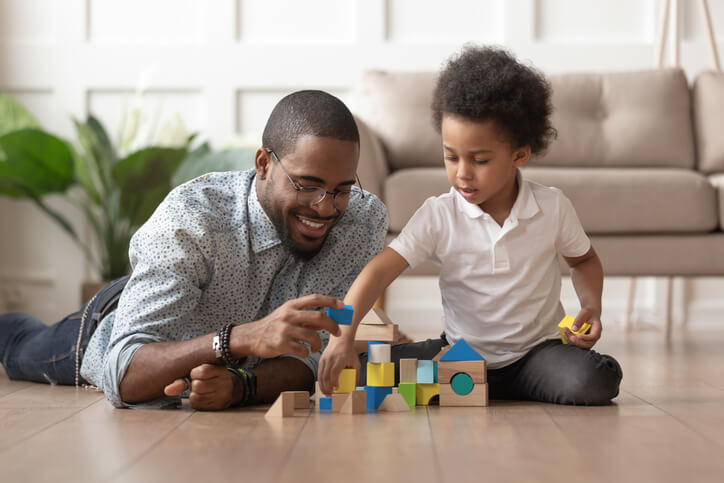 Helping Parents Get Their Little Ones Kindergarten-Ready
Posted by <Dana>
Hooray! Summer is almost here! Time for pools, vacations, parks, and playdates! But for parents who have preschoolers heading off to Kindergarten in August, the summer can be a little daunting. The realization that your little one will soon be a Big Kid combined with the anxiety of sending them off on their own can create very mixed emotions. However, you, as an occupational therapist, can play a huge role in helping kids and parents prepare for Kindergarten.
Kindergarten can be a shock to the system for some of our little ones! Table-top work, including handwriting, has gradually become a larger part of the Kindergarten curriculum. Not only does this require that our children have the attention they need to sit for long periods of time, but it also requires them to have the core muscles to sit upright in the chair and the proximal stability to support the movements of their arms and hands. And don't forget about the fine motor skills to hold and manipulate their pencil. The good news is that parents and therapists can give kids a running start in their handwriting readiness skills, while also strengthening those skills that help them learn to cut, tie their shoes, and zip their jacket!
Here are a few strategies to help kids get ready for the big day:
1. Social Story. It's always a good idea to help a child understand what will be expected of them and what will happen on their first day of school. This will decrease anxiety or fear about the unknown. A social story is an easy way to help a child understand what Kindergarten is. After the parent find out the teacher's name and get a better idea of what their child's daily routines will be, help them type up a fun story. Use the child's name and talk specifically about what will happen, ie "today I am going to school," "I will get up, get dressed, brush my teeth, eat breakfast, and get my lunch box," "mommy will take me to school," "when I get to school, mommy will walk me to my classroom, there I will meet my teacher," "mommy will leave but she will come back soon," "when mommy leaves, I will……….," etc. Talk about what things they will do at their desk, where they will eat lunch, when they will go outside to play, etc.
Leave room for the child to draw pictures of the things they will be doing at school. And have the parent read the story to them every night for the week or two before school starts.
2. Engage your child in Pretend Play. Encourage the parents to set up a pretend classroom and play school. They can also have a mock lunch room and a lunch tray to help their child get use to carrying their tray to the table. The parent can help act out the teacher in order to make sure their child has a good understanding of exactly how their day will go.
3. Get Moving. It's actually pretty easy to make those core and shoulder strengthening activities (which is the foundation of handwriting) fun and intriguing. Activities that require the child to use their muscles against resistance, such as pushing, pulling, lifting, and carrying are always great! Supporting themselves and lifting their own body weight is also really beneficial. Here are a few fun summer ideas for getting their muscles strong:
Simon Says: The key to this game is to include directions such as bear walking (walking on hands and feet), the army crawl, tumbling, and crab walking.
Crab Soccer
Swimming
Bowling
Pushing or pushing a wagon with another child inside
Digging in the dirt with a shovel
Helping to wash or dry the car
Hanging on the monkey bars and climbing on playground equipment
Helping to "wash" the house or fence by painting with water using a sponge or paintbrush
Tug of War
Animal Walk Relay Races: lizard crawl with their bellies to the ground, frog jumps, crab walk, bear walk….let your child pick the animal and create their own animal walks!
Jump houses and bouncy houses, such as Monkey Joe's
Carrying a watering can or bucket of water and helping to water the plants or garden
Walking the dog or pushing the stroller
Moving large pillows and blankets to create a fort
4. Fine Motor Fun. Working on the child's fine motor and bilateral skills, which are also must-have skills for writing, can also be easy. You can use common household objects to create simple and fun activities. Here is a quick example of activities I have posted in the past:
Cotton Balls:
Dip It: Build your child's pincer grasp and fine motor manipulation by having him dip the cotton ball in paint to create a masterpiece. You can also place the cotton ball on the end of a clothespin to create a homemade paint brush.
Tear It: Tearing cotton balls is great for developing fine motor and bilateral skills.
Grab It: Use tongs or clothespins to pick up the cotton balls and transfer them from one container to another
Hold It: Challenge your child to develop the separation of the two sides of the hand and improve their dexterity skills by holding the cotton ball with their ring and pinky fingers while manipulating tongs, crayons, paint brushes, etc.
Q-Tips:
Paint with It: Q-tips make great paintbrushes. They are a perfect size for strengthening the thumb side of the hand, which is vital for a good pencil grasp. Be sure to encourage them to use the thumb, index finger, and middle finger to hold the q-tip.
Wrap It: Use can also use the q-tip for fun tissue paper art, while fostering dexterity, manipulation, and bilateral skills. First make a fun cut-out. then wrap a small square of tissue paper on the end of the q-tip and apply it to your cut-out for a stylish decoration (be sure to prepare the cut-out by applying a thin layer of glue first).
Trace with It: Get a ziplock bag and fill it with shaving cream or paint. Then have your little one use the q-tip to practice writing different letters or numbers. You can also challenge your child to hone their imitation and copying skills by creating different designs and having them copy.
Drop It: In addition to toothpicks, you can also use q-tips for put-in tasks to build fine motor skills. Parmesan cheese containers or larger spice bottles are perfect. Get a bunch of q-tips and have your little one work on manipulation and eye-hand coordination skills to drop the q-tips in.
Toothpicks:
Stab It: Use the toothpicks during snack time to pick up grapes, watermelon, strawberries, cheese cubes, or melons.
Build It: Use toothpicks along with gum drops, marshmallows, or clay/playdoh to create a fun 3-D design, like our house or train.
Trace It: This is a fun, new way to get your kids interested in practicing their letters. Flatten play dough on the table and have your child use the toothpick to trace letters of your or their choosing. Flattening the play dough is also a great hand strengthening activity.
Push It: Create fun animals, such as porcupines, or birthday cakes. You can also place the toothpicks along the lines of letters, shapes, or numbers for another way to get your kid interested in learning.
Pipe Cleaners:
Weave It: This is such a fun fine motor activity. And who would have thought that such a simple idea would keep a child occupied for such a long period of time. It's also great for building visual motor control and grasping skills.
Lace It: Lacing is a great activity for building eye-hand coordination and bilateral skills. You can modify lacing by using pipe cleaners as opposed to string to decrease the challenge of the task. Paper plates or foam paper, rather than construction paper, are also more stable and easier to manipulate at first.
Form It: Practice forming uppercase and lowercase letters with the pipe cleaners and then copy that letter onto paper or onto a dry erase board. Start by providing your child with a model and then transition to having your child form the letters from memory.
String It: Like lacing, stringing beads is also a great activity for building visual motor skills and bilateral coordination. Using a pipe cleaner as opposed to a string provides a more stable base that is easier for beginners to manipulate.
Fold It: Folding is another one of those developmental skills that builds fine motor control and eye hand coordination. Pipe cleaners require more precise manipulation but are more sturdy to manipulate than paper. Challenge your child to line up the edges or perform multiple folds and then create a picture with the pieces.
Put In: Pipe Cleaners are another common object that can be used to create a fun fine motor put-in activity. Cut the pipe cleaners into various lengths and challenge your child to build their pincer grasp (which is a must-have for holding their pencil) by using their index finger and thumb to pick up the pieces. You can use an old spice container or water bottle for your child to drop the pieces into. Have them build their bilateral skills by holding the container with their non-dominant hand while putting the pipe cleaners in with their dominant hand. In this picture the child is placing the pipe cleaner pieces into the opening of a straw. This was a great challenge for his eye-hand coordination and ability to coordinate his hands together.
Grab It: Pipe cleaner pieces are great for picking up with tongs or clothespins as another fun activity for building hand strength, manipulation skills, grasping skills, and visual motor coordination. Cut the pipe cleaners into smaller pieces and have your child use the tongs or clothespins to pick up the pieces and drop them into the container of your choice.
Remember to make it fun! This will not only make it more motivating for the child but it will also make it more meaningful, which is the foundation of learning!
About Dana
Dana is a pediatric occupational therapist who has been practicing for 7 years. She resides in Charlotte, NC with her husband and two children. She began her blog, Embrace Your Chaos, as a way to share easy and fun activities to build a child's developmental skills at home and in the community. She has been blogging for over a year and looks forward to sharing ideas for many more years to come. You can also follow Dana on Twitter @dana_elliot