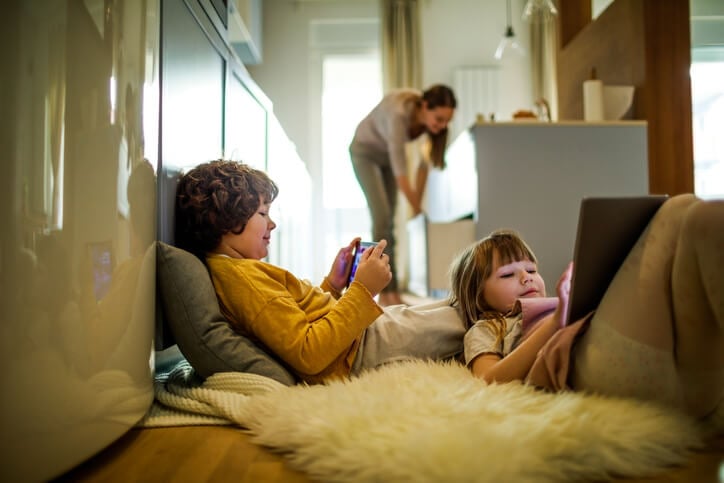 Are Smartphones and Tablets Ruining Kids' Speech and Language Development?
Four ways SLPs can help parents balance technology's pros and cons
By Jennifer Larson, contributor
You see them in restaurants, airports, waiting rooms, and minivans: young children occupied by a smartphone or tablet. They're seemingly everywhere.
And nearly as fast as the phenomenon has caught on, parents have been growing increasingly anxious about using technology to entertain children. Could it be harmful, some of them wonder? Could it hurt children's abilities to communicate effectively?
In fact, a 2015 survey of parents by the American Speech-Language-Hearing Association (ASHA) found that 52 percent of the respondents (parents of children between the ages of birth and 8 years) were concerned about technology's impact on their children's speech and language skills. The same percentage also expressed concern about technology's negative impact on the quality of conversations they have with their children. And 55 percent worried about technology hurting their children's hearing.
Losing personal interactions
The technology itself is not necessarily the problem, experts say. Technology has its value, as it can reinforce existing skills or skills under development.
But technology is not a substitute for face-to-face interaction with a parent or other adult. Problems can arise when parents substitute technology for interaction with their children--the kind of interaction that helps develop speech and language.
"It's not the media itself," explained Diane Paul, Ph.D., CCC-SLP, director of clinical issues in speech-language pathology for ASHA. "It's the fact that it limits conversation opportunities."
For example, instead of reading a book to their child and asking questions about the pictures on the pages, a parent might be tempted to let a smartphone app "read" the book instead. But then the parent is missing out on the chance to talk about the story with their child, wonder aloud about the characters, explain what words mean, and expose their children to more words and sounds.
"It should be a balanced approach," said Paul.
Contact Med Travelers for a new approach to your <allied health career>.
Four strategies to recommend for parents
Speech-language pathologists have a great opportunity to remind parents of the value of social interaction with their children during May, which is Better Hearing and Speech Month. Some strategies that you can recommend to help parents manage technology and prioritize their commitment to their children's speech and language development include:
1. Use your own voice. Research shows that the children of parents who talk to them more develop larger vocabularies. A 2013 study in the journal Psychological Science found parents who regularly talk to their children help them learn to process language more quickly, which helps them build their vocabulary faster. "Read to your child as much as possible," says Paul. "Talk to your child as much as possible."
2. Use technology together. It may be tempting to pass the tablet over and let a child do his own thing; try to resist the temptation. ASHA recommends making technology use in a group activity. Parents should spend time with their child playing an online game or using an app--and talk about what they're seeing and doing.
3. Set limits on technology use. Parents can set limits on the amount of time their child can use a smartphone, tablet, or other device. They also get to decide what devices their children get to use. ASHA recommends setting technology-free times, too, when everyone disconnects and engages with each other face to face.
4. Consult a professional if you have concerns. A parent may be concerned about a possible speech delay--or that their child isn't meeting milestones. "Don't wait and hope they'll outgrow the problem," says Paul. A speech-language pathologist can assess a child and then discuss whether and what kind of treatment might be necessary.
Find <speech-language pathologists jobs> in your choice of locations.
© 2016. AMN Healthcare, Inc. All Rights Reserved.