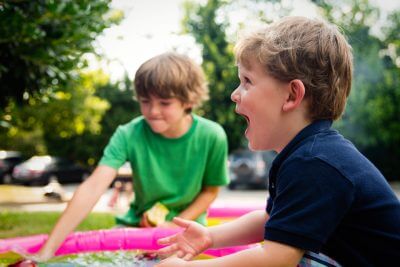 4 Tips for School SLPs to Keep Students Progressing Over the Summer
Keep It Brief and Simple
The easiest way to help parents keep up and build their child's communication skills over the summer is to keep it simple and quick to do. Tell them to focus on short activities that can be easily done at any time. It can include taking 10-minute periods after breakfast or before going to bed to work on speech activities. If they struggle with certain sounds, try to incorporate them in summer activities like traveling or going to zoos and museums.
Supply SLP Summer Gift Bags
Everyone likes to receive gifts, especially kids. You can put together a bag with some items to encourage communication skills throughout the summer. You can include colorful crayons and a journal. Or puzzles and playdoh to work on language concepts while improving fine motor skills. Another fun toy to include can be a bottle of bubbles as they help oral motor skills like lip rounding and backward tongue movements.
Offer Incentives
If your kiddo needs to improve areas of speech and language, you can give them workbooks to complete over the summer. Tell them that they will receive a sticker for each page they complete. If you want to do even more, you can tell them that they will get a small toy or prize for every five pages they complete.
Use Technology
Let's face it; kids nowadays are very technology inclined. If they tend to use their parent's cell phones or tablets, encourage parents to download apps that are focused on reading, language, and building vocabulary. There are tons of really fun apps available that are more like games but help kids maintain skills learned during the school year.