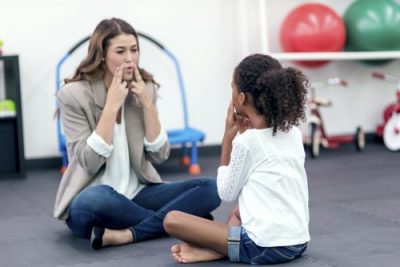 3 Ways SLPs Can Work in Schools
There are a variety of programs in schools that a Speech Language Pathologist can work. Within every school district, there is a continuum of special education settings that range from least restrictive (i.e. general education classroom) to most restrictive (i.e. self-contained classroom). We explore what these different settings look like, what caseloads may include, and with who you might collaborate.
Least Support – General Education
A general education caseload includes students who have a mild to moderate speech or language disorder. The most common treatment goals are articulation, delayed expressive/receptive language, fluency, reasoning & inferencing, and pragmatics. Often the student is able to independently participate in a general education classroom with minimum accommodations.
If a general education student has only Speech-Language Therapy services on their IEP, you will be the case manager and a leader in IEP meetings. Collaborating with the general education teacher is key so that your therapy materials incorporate the curriculum into your sessions to holistically support the student academically.
Moderate Support – Pull-Out Academic Services
In this scenario, students are enrolled in a general education classroom but receive pull-out academic support from one or a variety of specialists. These specialists may include reading interventionist, ELL specialist, math interventionist, special education teachers, etc. Typically, this model is used in a district that follows an inclusive model where students are with general education peers as much as possible.
Speech Language Pathologists are often considered a "related service provider" in this scenario because there are multiple special education professionals on the case. You can expect to be providing services in a pull-out or push-in manner depending on the school's culture, the child's needs, and the parent's preferences. Be sure to collaborate with the interdisciplinary team on what they are working on, so you can incorporate their techniques and skill development into your sessions.
Maximum Support – Self-Contained Classroom
Self-Contained Classrooms indicate that the classroom is only serving special education students. The classroom typically has a higher staff to student ratio and could have a uniform diagnosis across the students (I.e. Autism Spectrum disorder, physical and cognitive disability, emotional disability, visual/hearing impaired, etc.). Students within these classrooms often receive support from multiple service providers (I.e. SLP, OT, PT, SW, etc.).
Speech Language Pathologists may be directly assigned to a self-contained program within a district or have a combination of self-contained and general education. When working within these classrooms SLPs will have increased collaboration and co-treating with the interdisciplinary team. SLPs will also have an increased opportunity to support Alternative Augmentative Communication (AAC) implementation, sign language, behavior management, life skills, and pragmatic language skills.
There are many variations within these three levels of care that allow School-Based SLPs to gain clinical experience with numerous pediatric diagnosis.
Check out some of our <open school jobs > to take your career to the next level today!
By Alyssa Hunter MA, CCC-SLP