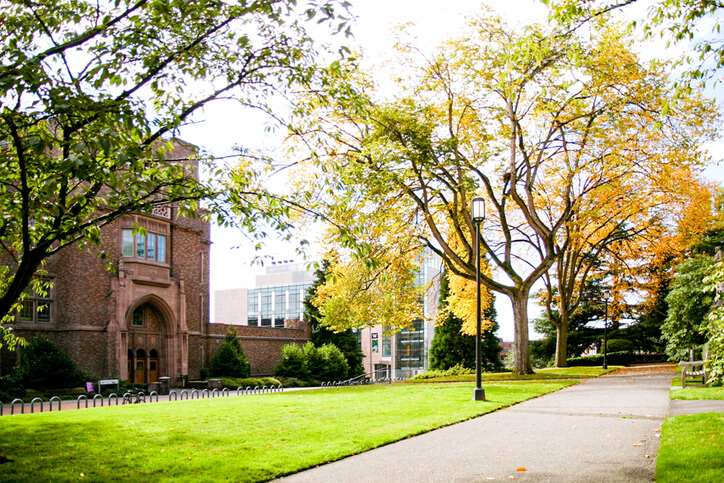 University Showcase: Washington University
Posted by Ryan
Sitting in the heart of suburban St. Louis, Washington University in St. Louis is a private research school boasting a top 4 ranking in Federal research grants for Health. WashU, as the students refer to it, was founded in 1853 and currently represents students from all 50 states and over 110 nations.
Washington University has a proud tradition in therapy related education. With an OT program currently ranked #1 and a PT program at #2, WUSTL is the premier destination for rehabilitation. WUSTL also has the #1 ranked social work program-making this a campus overflowing with generous and altruistic students. Advanced Medical was lucky to meet some of these students at a recent OT/PT career fair.
The therapy program was founded in 1942. Named the Barnes Hospital for PT Technicians, this program lasted 6 month and primarily consisted of therapy preparation for war duty. The PT program moved to a Masters degree in 1988, and followed with a DPT program in 1999. With WUSTL being a prestigious research university, it is no surprise that the therapy departments are renown for their clinically relevant research.
Focusing on critical analysis of evidence, and ensuring small class sizes with state of the art facilities, WUSTL is at the forefront of rehabilitation research. The Director of the Occupational Therapy program is Carolyn Baum. Carolyn brings a wealth of experience, serving as AOTA president from 2004-2007, while also coauthoring Occupational Therapy: Enabling Participation and Well-Being, a text currently in its 3rd edition and used in curricula worldwide.
To give an example of the kind of departments you will find here, look no further than WUSTL sponsoring a recent conference at the new Walter Reed Medical Center in Bethesda, Md. This conference was coordinated by Matthew Dodson(class of 2006), and 4 out of the 6 presenters were from WUSTL. The Care of Wounded Warriors Conference focused on post concussive syndrome and combat stress reaction treatments to be administered by military OT's.
The conference had presentations beamed in from diverse locations as far as Hawaii and Afghanistan. This is the spirit of the rehab programs you can find at WUSTL. Not just a place for superior instruction and research, but also a place where that superior knowledge is applied with the larger purpose of community welfare. The OT program is currently the only place where you can find MSOT, OTD, and PHD degrees.
Advanced Medical enjoyed getting to know this proud and charitable group of students and looks forward to its next visit.