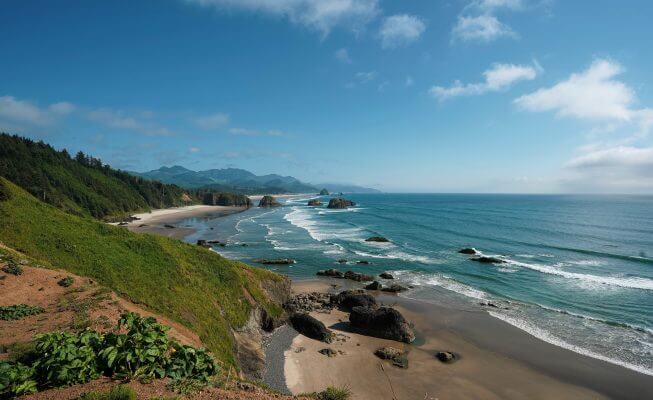 Travel Therapist's State Guide: Oregon
Posted by Kate Hawes
Our travelers, Emily Marshall (SLP) and Andrea Nye (OT) have teamed up to share their Oregon insider favorites.
Oregon is an outdoor lover's paradise. From hiking to hot springs, you'll be set at your new assignment in The Badger State.
This beautiful ski spot has run for everyone, from the bunny slope to double black diamonds.
Oregon boasts many scenic hot springs. Some are off the beaten path and require a bit of a hike, and others are more easily accessible. One favorite of Emily's is McCredie Hot Springs in Willamette National Forest, which has the Goldilock's of hot springs – one is searing hot, one is lukewarm, and one is chilly.
Favorite Weekend Getaway: Bend
Bend has countless fun things to do – hiking, shopping, breweries (and more breweries), the ability to float the Deschutes River, and access to Smith Rock for rock climbing or hiking.
Most Memorable Hike
Triangulation Peak near Detroit: This hike only takes a couple of hours and offers you unobscured views of Mt. Jefferson, plus a quick scramble provides a view of the mountain through a perfectly-shaped cave "door".
Best Brewery
10 Barrel Brewing in Bend: It has many great beers plus good food and live music on weekends!
Must-See Spot
Crater Lake National Park: A trip to Oregon isn't complete without seeing the deepest lake in America first-hand. In both summer and winter, Crater Lake inspires awe.
Best Sunrise Spot
Trillium Lake in Mt. Hood National Forest: If you happen upon Trillium on a clear morning, you are blessed with tranquility and light pastels as the sun slowly illuminates the mountain.
Often Overlooked Spot
Samuel H. Boardman State Park in southern Oregon: Here, coast-meets-forest as tall trees frame your picturesque view of the ocean. Not far from this park is Redwood National Park in California!
Want to experience all that this amazing state has to offer? Check out our open jobs in Oregon.