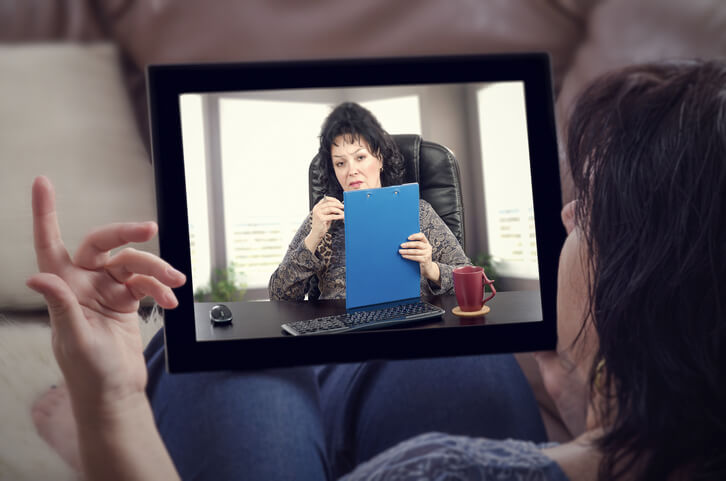 Tips and Tools for Speech Therapists Working with Online Clients
By Doug Bennett, a contributor
Prior to the COVID-19 pandemic, some speech-language pathologists (SLPs) were already opting to work remotely with patients. In recent months, a growing number of SLPs have embraced working remotely with clients, in conjunction with new social distancing guidelines and other public health measures aimed at reducing COVID-19 infections.
In light of the increased usage and appreciation of teletherapy's advantages in recent years, we offer some timely tools and tips for speech therapists working remotely.
State licensure requirements and practice models
SLPs who want to work remotely should first contact their home state licensure boards—as well as their patient's home state licensure board, if he or she resides in a different state—to learn about the most current regulations and requirements.
While states generally require therapists are licensed in the state where the patient resides, many have made temporary policy changes during the coronavirus crisis.
To gain deeper insight for speech therapists working remotely with online clients, we reached out to Elana Shinkle, MA, CCC-SLP, speech-language pathologist and clinical resource coordinator for Global Teletherapy.
"Some SLPs form an LLC for independent contracting; many of us join companies like Global Teletherapy that provide us with students in exchange for a minimum hourly commitment. We must be licensed both where we reside and where our students live. We also need to have a private area where we can maintain confidentiality of our sessions."

Tech tools for SLPs working remotely
Even for tech-savvy folks, trying out new telecommunications platforms, tools and technology can sometimes feel overwhelming, especially if you encounter technical glitches.
"If SLPs are not comfortable with computer technology, they may feel challenged by this service delivery model," said Shinkle.
"They will need a high-speed internet connection, hardwired for reliability. Wi-Fi is unpredictable, especially with all the new homeschoolers in some neighborhoods due to the pandemic."
When asked which platforms are commonly used by SLPs working remotely today, Shinkle replied, "Most of us use live video conferencing sessions, as these are interactive and engaging. It is also possible to use a prerecorded session, but this is rare."
"We have enjoyed Smart Notebook, which Global Teletherapy kindly provides for therapists," she continued.
"There are countless other tools available online, some free and some better than others naturally…we have found Zoom and GoToMeeting to be the best platforms for our purposes."
Confidentiality concerns
Another important step that therapists should not forget, according to Shinkle, is to purchase a Business Associate Agreement (BAA), or contract, for HIPAA and FERPA confidentiality.
She noted that her company provides this for their therapists, along with an account with Pearson Q-global with speech-language and other online evaluation materials.
Geographical and cultural considerations
The opportunity to experience living and working in a variety of geographical locations and healthcare settings is one of the most appealing benefits for speech-language pathologists who work remotely.
To ensure their experiences go as smoothly as possible, SLPs working remotely should consider all relevant geographical and cultural factors.
"The American Speech-Language-Hearing Association (ASHA) is working on interstate compacts, but we do need to follow state policies regarding telepractice. Some SLPs prefer to see students in different time zones so that they can extend their workday," said Shinkle.
Regional or local cultural differences can also come into play for speech therapists working with online clients. Shinkle recommends that SLPs working remotely devote time to learn about the cultural norms specific to where a client lives.
"When working with a less familiar cultural group, I prefer to learn about that culture and ask questions of the school team to stay culturally sensitive and appropriate. In fact, when working with a Lost Nations school I listened to their tribal music and incorporated regional vocabulary into our sessions," said Shinkle.
A win–win for SLPs and patients
Ultimately Shinkle recommends that speech therapists working with online clients keep in mind that the services are essentially the same—they are just occurring via computer instead of in-person.
"We use our same engaging smiles and often similar materials as we did on-site. In fact, many SLPs already use apps when on-site, as I did at school and in skilled nursing facility settings. And, in general, kids love computer time so it's a win–win; no germs, commute nor backbreaking material carting!" said Shinkle.
Related:
<Full-service State Licensure Services>
ASHA State-by-State – including telepractice changes during the coronavirus crisis
MED TRAVELERS has both permanent and travel SLP jobs in choice locations across the country to help you advance your career. Use the link below to search speech therapy jobs and find your next career advancing position.