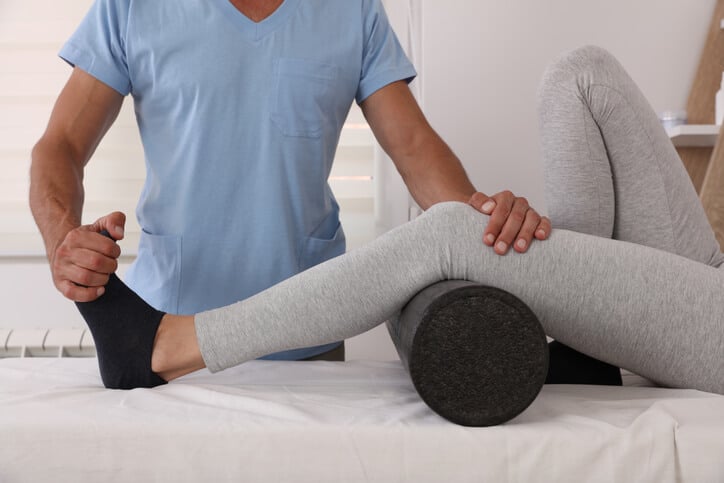 PTA Program Spotlight
Posted by Ryan
In this space, we often shine a light on the excellence being practiced daily by Advanced Medical travel therapists and the dynamic universities that educate them. Our popular University Showcase feature brings an up-close look at national DPT programs and our Travel Talk section gives an authoritative voice on the important clinical issues of the day. Regrettably, one segment of our team that often goes overlooked is the vital work being done by the physical therapy assistants and the educational programs that produce them. Physical therapy assistants are an essential component of the PT profession and their influence continues to grow with increased demand and industry modernization.
PTAs measure data and perform select treatments under the direct supervision of a licensed physical therapist. Their ability to modify and intervene in various clinical situations allows physical therapists to make informed decisions regarding a patient's comfort and safety. Currently, there are over 70k PTAs working nationwide, and the profession is growing much faster than the average for all occupations. Advanced Medical Travel PTAs often work in rural and underserved communities providing critical support and expertise to those in need. PTA programs continue to grow in both numbers and stature. In honor of PT month, we thought it would be fun to recognize some outstanding PTA programs right here in the sunshine state.
Daytona State College: This multi-campus institution is a short ride up I-95 from our Port Orange headquarters. The accredited PTA program was established in 1994 and boasts a 100% licensure rate for graduates. In addition, the school partners with a diverse group of clinical facilities from around the state of Florida.
College of Central Florida: This school is a member of the Florida College System and is located in Ocala- a city famous for its horse farms. The PTA program provides layers of support with dedicated advisers and detailed information sessions. The completion of the program comes after 2 full-time-7 week clinical rotations within select Florida medical settings.
Gulf Coast State College: This college is located in the Florida Panhandle and serves a wide variety of students with 4 area campuses. It was created in 1957 as the first 2-year institution established by the Florida Legislature as part of the Florida College Network. The program places a high emphasis on a well-rounded education with a strong general studies requirement. It also has designed the curriculum in a manner that makes a transition into a bachelors level program easily managed.
Broward College: This educational cornerstone of South Florida is ranked as one of the top 10 community colleges in the country. The college touches over 68,000 students annually and can point to a global reach with representation from over 150 nations. The PTA program combines traditional classroom teaching methods with a strong online component, including video conferencing and online courses.
Hodges University: This comprehensive learning university was founded in 1990 and has a campus in both Fort Myers and Naples. The PTA program accomplished a 100% graduation rate in 2013 and is accredited through the Commission on Accreditation in Physical Therapy Education (CAPTE). The program has a strong internship component and is the only program in the area that can be completed in 2 years or less.
Advanced Medical salutes these institutes of higher learning! Until next time…