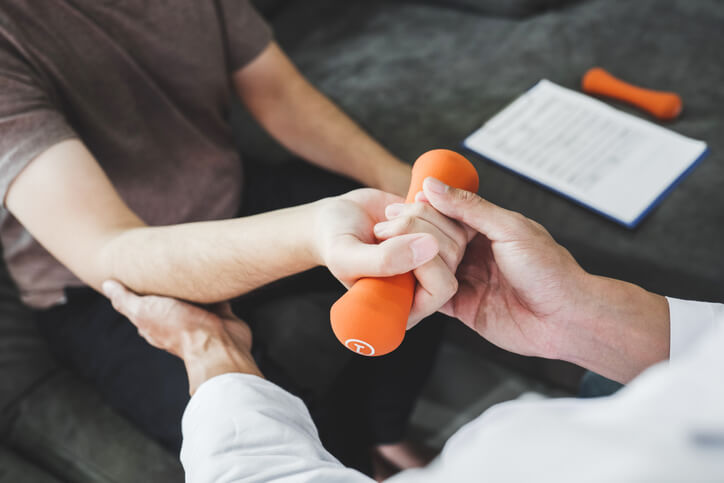 The Physical Therapy Compact: 5 Things You Need to Know
By Tiffany Aller
The Federation of State Boards of Physical Therapy governs how physical therapists are licensed and overseen throughout the United States. In 2010, the FSBPT began research into creating a cross-state compact to allow therapists to practice using the same license in multiple jurisdictions.
Get your compact license and put it to work with travel therapy jobs. Visit Med Travelers to check out the job listings and apply today.

5 PT Compact Facts Every Physical Therapist Should Know
After years of design, the Physical Therapy Compact was passed into legislation by almost two dozen states. With an eventual goal to reach all 50 states plus multiple US territories, the PT Compact finally began accepting applications in July 2018 to allow reciprocal license recognition in initially participating states. As you look to expand your own availability as a physical therapist or physical therapy assistant to patients in multiple states, check out these 5 things you need to know about the PT Compact.
1. 5 States Are Currently Issuing Licenses with Another 17 Coming Onboard
In July 2018, North Dakota, Missouri, Tennessee, Oregon, and Mississippi began issuing compact privileges to eligible PTs and PTAs. Legislation has passed in an additional 17 states, where compact privileges will soon come online. They include:
Arizona
Colorado
Iowa
Kentucky
Louisiana
Montana
Nebraska
New Jersey
North Carolina
Oklahoma
Oregon
South Carolina
Texas
Utah
Vermont
Washington
West Virginia
2. PTs and PTAs Must Meet Specific Requirements to Qualify
Professionals who hope to obtain cross-state licensing through the PT Compact must meet specific requirements for consideration. Those requirements cover current licensing status and residency.
- PTs and PTAs must live in a state covered by the PT Compact and be applying for privileges in a state also covered by the compact. Both states must currently be issuing privileges.
- PTs and PTAs must have a current license in their home state, and their license must not have any encumbrances or disciplinary actions pending against it.
3. Some States May Levy Additional Requirements
The PT Compact does not take away any state's individual ability to levy additional requirements on any PTs or PTAs licensed within their borders. Besides the ability to set custom fees, states may also choose to require practitioners to take a jurisprudence exam. Additionally, therapists must continue to meet the requirements of their home state, including continuing education and training.
The Home State sets 4. Licensing Requirements and Expirations
According to guidance issued by the PT Compact, and aside from jurisprudence exam requirements, PTs and PTAs are governed by the licensing requirements of their home state. If the remote state they wish to gain privileges in through the PT Compact has differing requirements, they do not apply. Practitioners only have to keep up with the requirements of their home state, alleviating the need to balance differing demands. In addition, licenses held through the PT Compact expire on the original expiration date set by the therapist's home state.
5. PTs and PTAs Must Comply With Practice Regulations in Practice Jurisdiction
States have different laws covering how physical therapists and physical therapy assistants can practice within their jurisdiction. While PTs and PTAs may be permitted to perform certain procedures in their home states, the states where they obtain remote privileges may not allow the same procedures. The PT Compact Commission provides guidance and references to determine what is allowed in each participating state.