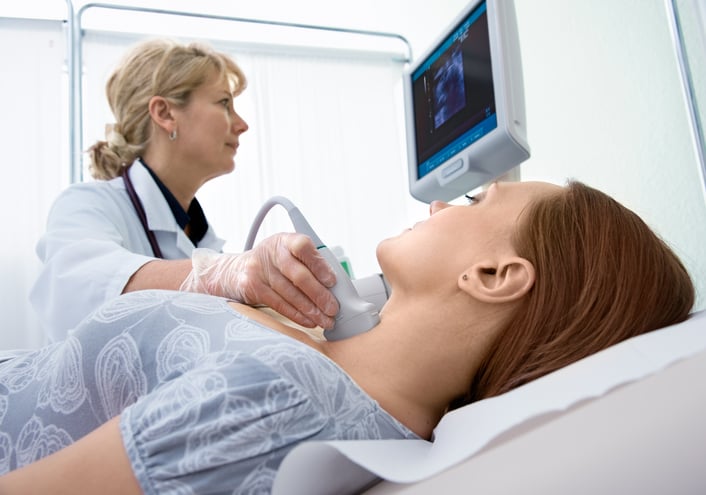 New Developments in Medical Sonography
How technology and healthcare trends are changing sonographer jobs
By Debra Wood, RN, contributor
Advances in technology and the greater use of diagnostic ultrasound have kept the demand for medical sonographers high.
"Ultrasound is becoming more of a front-line modality," said Sheryl E. Goss, MS, RT(R)(S), RDMS, RDCS, RVT, FSDMS, president of the Society of Diagnostic Medical Sonography, and the chair of sonography/assistant professor at Misericordia University in Dallas, Pennsylvania.
The job market for sonographers
Goss reports seeing growth in sonographer jobs, particularly as hospitals have begun staffing for around-the-clock coverage by medical sonographers. She added that as healthcare has changed, more part-time per diem positions have also been created.
FIND full-time, <travel sonographer jobs> with Med Travelers.
Medical sonography refers to the use of sound waves to produce images that can help physicians and other providers diagnose medical conditions. Exams usually take 30 to 40 minutes. Medical sonographers also assist physicians and surgeons during surgical procedures. Physicians are using focused ultrasound to destroy tumors.
The U.S. Bureau of Labor Statistics projects a 24 percent increase in medical sonographer jobs from 2014 to 2024, which is much faster than the average for all occupations.
Ultrasound has many advantages: it's not invasive, there is no radiation involved, and it is pain-free for the patient. It has also become more portable in recent years.
New uses for diagnostic ultrasound
• Musculoskeletal injuries. One of the growth areas in medical sonography is in diagnostics of musculoskeletal injuries, such as tears or tendinitis in the rotator cuff and Achilles tendon, Goss said. It also can help in diagnosing muscle tears, ligament sprains, or inflammation within the bursae or joints. The imaging can show changes as the person moves.
"We can position the patient and have him or she do maneuvers to see how the tendons and muscles move, as opposed to MRI where the patient is lying still," Goss explained. "The biggest thing with ultrasound is the dynamic maneuvers that can be performed."
• Contrast ultrasounds. Another recent advance is the Food and Drug Administration approval of contrast used in liver ultrasounds to see blood flows to tumors and help in determining between malignant and benign focal hepatic lesions in adults and children. The contrast helps visualize organs and blood flow.
"The goal is to reduce the number of CT scans," Goss said. Unlike ultrasounds, CT scans use radiation. Contrast ultrasound also is approved for heart scans.
• Women's health & fetal health. 3D and 4D ultrasound images are being used to evaluate breast masses and the placement of IUDs. The additional dimension provides volume measurements.
Color Doppler has been around for a number of years, but it's now being used more in obstetrics and high-risk pregnancies. It is often used to diagnose and assess congenital heart abnormalities.
• Endoscopy. 4D ultrasound is being used during endoscopy procedures, particularly pancreatic conditions and rectal wall tumors. The technique helps the provider see a colon polyp and determine its depth.
• Tissue elasticity assessments. Goss expects growth in the use of ultrasound elastography, which shows tissue thickness. It can be used to assess cancerous tumors. It also is being used to determine liver stiffness in fatty liver disease and for assessing or monitoring the presence of cirrhosis.
Point-of-care ultrasound
"Point-of-care ultrasound has grown enormously," Goss said. "It's [used] in many specialties and is a limited study, in which it answers a clinical question. It's not a full diagnostic study."
The handheld ultrasound device helps physicians determine treatment. It's often used in emergency departments for quick assessments, Goss said. For instance, it may be used to see if there is fluid in the abdomen after trauma.
A portable study often will be followed up by a full diagnostic ultrasound study. The concern about point-of-care devices has long been that it would put medical sonography providers out of a job, but Goss said that has not been the case. The need for full diagnostics studies continues to exist.
Med Travelers is seeking skilled <sonographers> to fill temporary travel jobs across the country; apply today get started in your allied travel career.