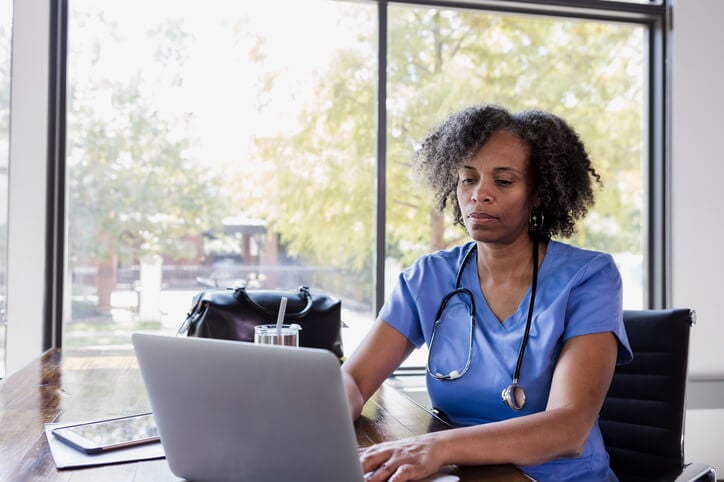 Home Health PT Documentation: What You Need to Know
Home Health PT Documentation: What You Need to Know
By Tiffany Aller
Documentation is the backbone of health care. Home health PT documentation helps physical therapists keep track of all the vital information they need to know about their patients, document goals, log exercises and advice relevant to each case, and track progress. Here's the most important information to know to keep your PT documentation on track and up-to-date.

Maintaining optimal documentation
The American Physical Therapy Association reminds that "while physical therapists may find documentation to be onerous, appropriate documentation of services is crucial." At its core, documentation is an issue of safety for both therapist and patient.
For therapists, you're recording important information about each session should a problem ever arise. This is even more important when therapy is conducted at a patient's home instead of a healthcare facility because of heightened liability issues.
For patients, it's the information necessary to track their health and participate fully in their recovery. Not only is documentation a good practice, it's a requirement for most insurance companies and healthcare organizations.
Tracking patients with technology
Handwritten charting is a thing of the past, and its technological replacement makes it far easier for today's physical therapists to complete necessary documentation quickly and easily. Therapists can use their handheld devices, like iPhones and iPads, to access patient charts through secure online portals when away from facility-based computers.
Leon Turetsky, a certified personal trainer and corrective exercise specialist, recommends taking advantage of built-in phone and tablet tech offerings like cameras and video recorders to track patient work and progress. Then, he says, therapists can add a narrative to accompany photos and videos "on what you've done with them and the progress you've made."
From there, therapists can use secure electronic health records to upload their documentation and share that with their patient. Ensure record completeness before uploading so information is ready for review or submission to insurance.
Satisfying Medicare documentation requirements
Many private payers base documentation expectations on what government policies like Medicare Part B require. Some electronic health record systems guide therapists through these areas, but independent therapists may need to keep these requirements front of mind to satisfy them for each patient. Necessities include:
Evaluation, including diagnosis, therapist impressions and prognosis
Plan of care, including goals and type of treatment prescribed
Progress notes, including changes to initial plans
Visit-based records, documenting particulars of each encounter
Home health PT documentation has to be completed shortly after each visit with the patient, if not during the visit itself. Patients need access to their medical records in a timely fashion to stay abreast of their therapy plus remain <committed to working with their therapist>. Their other treatment providers also need frequent updates as to their care and progress. Finally, insurers have specific requirements about when this documentation must be filed. Your commitment as a therapist to this vital administrative function helps satisfy those important needs.