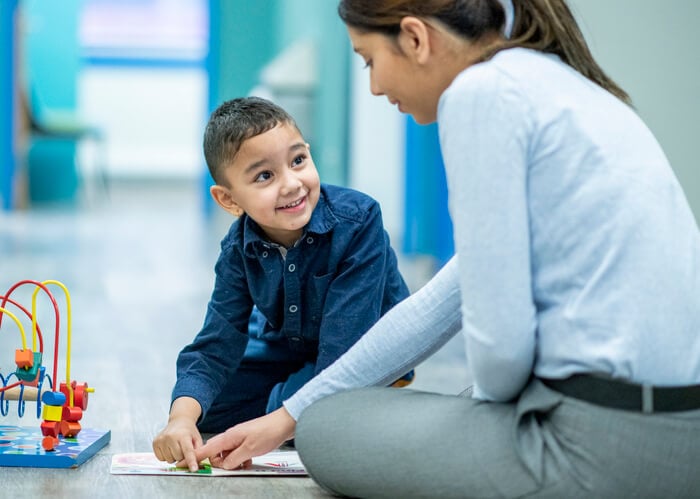 Where to Find Speech-Language Pathologist Jobs
The latest in SLP jobs and speech pathologist salary trends
By Melissa Wirkus Hagstrom
"Communication works for those who work at it." – John Powell
The ability to speak and utilize language to convey feelings and emotions is a gift that most people take for granted. Yet some have difficulty with these basic communication skills.
In those cases, it a speech-language pathologist's job is to help people produce speech sounds correctly and fluently, understand others (receptive language), and share thoughts, ideas, and feelings (expressive language).
But where are <jobs in speech pathology> most likely to be?
Workplace settings for speech-language pathologist jobs
Schools are the most common working environments for speech-language pathologists (SLPs), or speech therapists. According to the American Speech-Language-Hearing Association (ASHA), more than half of SLPs (56 percent) are employed in educational settings, including 53 percent in schools and 3 percent in colleges and universities.
Another 39 percent of SLP jobs can be found in health care settings, including 16 percent in nonresidential health care facilities, 13 percent in hospitals and 10 percent in residential health care facilities.
SLP job trends suggest that an increasing amount of work will be available in school-based, bilingual, private-practice and corporate settings, ASHA reports.
The SLP job market
The employment outlook is positive for those pursuing a career in communication sciences, including speech-language pathology jobs.
U.S. News & World Report, which aggregates data from a variety of sources and organizations, ranked speech-language pathologist jobs as the 20th "Best Health Care Job" and 28th in their overall "100 Best Jobs" list for 2017.
The U.S. Bureau of Labor Statistics (BLS) is forecasting a 21 percent increase in SLP job openings between 2014 and 2024, which is higher than the average growth for all occupations. This growth rate means the country will need to educate, train and certify nearly 29,000 additional SLPs to meet demand.
The BLS also ranked SLP jobs 13 out of the 20 occupations projected to add the most new jobs between 2012 and 2022, for occupations that typically require a higher-level degree for entry.
Longer life expectancy for the country's aging population, increased school enrollments and earlier identification and diagnosis of speech problems are just a few of the factors contributing to growth in SLP jobs and salaries.
Hot spots for SLP jobs
ASHA publishes SLP-to-population ratios annually. The most recent national results made available from 2014 found there were 46.6 certified SLPs for every 100,000 residents nationally, up from 45.0 the previous year.
Regional ratios ranged from a low of 40.7 in the West to a high of 61.3 in the Northeast. State-level ratios ranged from a low of 23.5 in Nevada to a high of 74.2 in Arkansas, according to ASHA's Supply and Demand Resource List for Speech-Language Pathologists, 2017.
For those looking to take their job skills on the road, Med Travelers has a variety of openings for traveling therapists to work <short-term SLP jobs> throughout the United States.
California, Texas, Illinois, Pennsylvania and Washington are five states that consistently have high demand for travel speech language pathologist jobs. Work settings for these contracts include schools, hospitals and clinics, home health and skilled nursing homes.
Speech pathologist salary data
According to the ASHA Schools Survey, the median speech pathologist salary for SLPs who worked a standard academic year was $61,000 in 2014, while the median calendar year salary was $72,107.
In clinical settings, the ASHA SLP Health Care 2015 Survey reported the median annual speech pathologist salary in health care settings was $75,000.
A travel speech pathologist's salary will vary depending on the employer and the individual contract, but pay rates tend to be comparable to or higher than staff positions based on hourly rates. The pay for travel SLP jobs may include a combination of taxable and non-taxable earnings and reimbursements.
Opportunity for new SLP graduates
New graduates seeking speech language pathologist jobs will find their skills and experience in high demand throughout the country, for both permanent and travel positions. [GET Med Travelers' free <New Grad Guide for therapists>.]
In fact, the BLS ranked speech language pathology jobs 19 out of the 20 occupations projected to have the most job openings between 2012 and 2022.
Once the Praxis exam is complete and the state licensure process is underway, new SLP graduates can really begin the job hunt as they embark on their professional career.
LEARN MORE about SLP job opportunities from the experts at Med Travelers!
•<BROWSE current travel SLP jobs>;
•<SIGN UP for job alerts> in your choice locations; or
•APPLY with Med Travelers to start working with a recruiter.