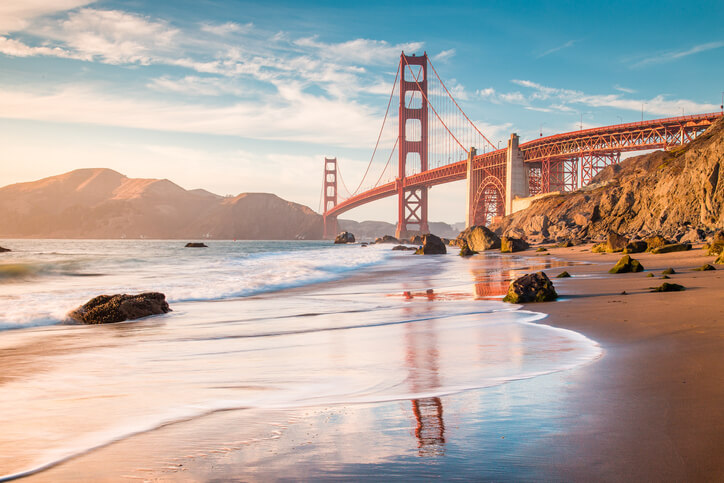 Veteran OT Traveler Finds Adventure in California
Veteran OT Traveler Finds Adventure in California
Veteran traveler Julia Holcomb, an occupational therapist currently on assignment in the Oakland, California, area, has been traveling for 14 years — her entire professional career. For the last four years, she has been with Med Travelers.
"My career has certainly been untraditional," she said. "I graduated from school and thought about what I was going to do. I didn't want to commit to one area of treatment. I really wanted to get out there and see what was available. And that's when I started to consider traveling seriously."
Concerned that Julia would miss out on the benefits of mentorship by traveling as a new grad, her professor took her to lunch, and together they formulated a list of criteria that would help Julia succeed. After her first three years of traveling, Julia had worked at eight cities in six states and was able to try many different areas of therapy.
Coast to Coast
Julia grew up moving about every three years between San Francisco, California, and Staten Island, New York. But it wasn't until about four years ago while living in Chicago when Julia found herself heading to her first travel assignment in California.
California was also her first assignment with Med Travelers and recruiter August Larson, who's been with her since.
"I think that I've been fortunate and blessed that I've had August over the years because our different personalities complement each other well and he's pretty amazing," Julia said. "He's made it easy to step outside the box."
And now August had something very tempting for Julia in California.
"The irony was, I had lived and completed grad school in California, but never got a state license," she said. "So that's when I decided to go to California because I could work on a temporary license and it was time for me to get away from Chicago."
Julia accepted an assignment in San Diego, with the intention of it being her last travel assignment. But when it neared completion, August offered her a trauma job in Santa Rosa, California, a specialty she hadn't practiced in a very long time. So she took it, and after that, she took another trauma job in beautiful Santa Barbara, California.
"California became an adventure," said Julia," and I was learning again."
With a Keen Eye
On her offtime, Julia loves to grab one of her film cameras and set out on photographic adventures. She's an excellent photographer with a captivating style. She credits traveling for giving her plenty of fodder to fuel her creativity.
"I do film photography and love all mediums of film," she said. "My love of photography comes from having to travel coast to coast when young, attending new schools and meeting new people. I'm not a street photographer where I take random pictures of people who are unaware. Instead, I take a moment to talk to strangers and then end up shooting their portraits. And that's been nice to film."
Julia also said that the combination of photography and traveling helps her meet new people outside of the healthcare environment.
"Just by walking around with my cameras, especially if I have my old Polaroid, it'll stop people and make them want to talk to me," she said. "So it's nice when you're in a city or a state where you don't know anyone to have a way to connect with people."
Julia started taking photos right after college. You can see her portfolio at https://www.flickr.com/photos/juliarholcomb.
For Julia, the future is a bit unclear regarding how long she will continue to travel. However, as a proud African-American woman who recognizes the need to fight for representation among patients and healthcare professionals, she will continue to be a staunch advocate for more diversity in healthcare.
READY to start expanding your career choices as Julia has? Just apply online, and our recruitment team will help get you on your way!