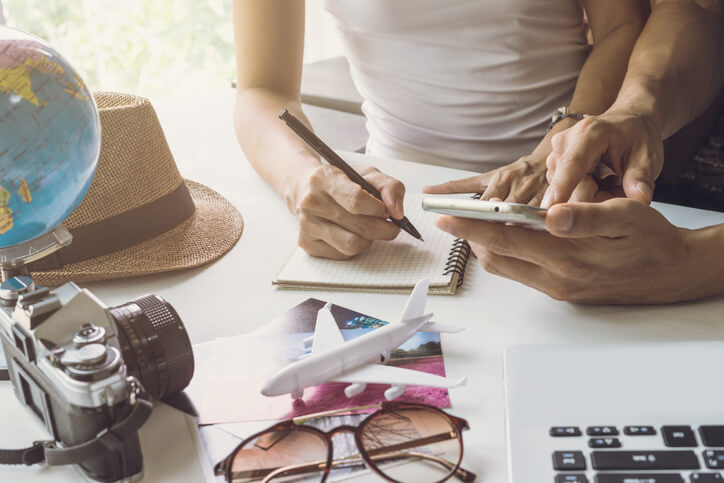 Traveling Becomes Integral to Couple's Master Plan

Traveling Becomes Integral to Couple's Master Plan
Married couple Candice and Ryan Dennehy are travelers with a plan.
They exchanged their vows soon after attending college in Richmond, VA, and then about two years later, they settled in Charlotte, NC, to start full-time jobs.
Candice, an occupational therapist specializing in pediatrics, and Ryan, a physical therapist, have always been goal setters. So when they were figuring how to accelerate some of their financial goals, traveling began to make a lot of sense.
"We started to get a little bit of house fever," Ryan said "We were renting an apartment for about a year and thinking it would be great to move on and get a house. Then we looked at our student loan debt and looked at the potential of getting a house on top of that and determined it was too much at once."
Candice and Ryan talked about how they could get where they wanted to be. They wanted a house and eventually a family but knew a first step would be paying off their student loans.
"We also realized that we were at a time in our lives where we hadn't really put down roots in Charlotte, so we thought what better time than right now to make a move," said Candice. "It was the perfect storm. We were in the perfect phase of life, and traveling was viable for both of our careers. So we decided to go for it."
They set a goal to be traveling by January 2019. Fortunately, they had friends who were travelers, and they spoke positively about their experiences. Candice and Ryan decided to pick their brains and do their due diligence. After chatting, the couple decided that the next step was to find a travel company.
Traveling with a plan
Ryan began to do research, including contacting a fellow traveler who runs a travel blog for physical therapists. Candice and Ryan called a list of recommended travel companies and after talking to Med Travelers recruiters Kalie Simmons and Kimberly Clayton, Candice and Ryan knew they found their travel company.
"Our recruiters have been phenomenal," Ryan said.
Picking an assignment location that can accommodate two travelers can be challenging, especially when trying to place a pediatric therapy specialty. Fortunately, they were advised to get their licenses in California and Arizona because there would likely be more options there. Candice and Ryan decided to prioritize by looking for Candice's assignment first and then following up with Ryan's once Candice was set.

Settling in California
Fortunately, the couple received job assignments at the same time in Concord, California, just northeast of San Fransisco. It was January 2019, and the Dennehys' had hit a significant goal. And it didn't take long for California to start growing on them.
"Candice and I love to hike, and California's loaded," Ryan said. "I can drive less than 10 minutes, and we can hike 10 or 15 miles. It was wonderful being near Mount Diablo and we visited Yosemite, of course. We went to San Fransisco several times and explored the Bay. Every weekend we had a new place to go, and that was really fun."
They had planned on taking assignments in Arizona, but because of the availability of jobs, Candice and Ryan have remained in Northern California, which has not only been enjoyable but an integral part of their master plan. They continue to watch their spending and stay on course to paying off student loans and buying a house. They say they will achieve both goals in about a year.
READY to start expanding your career choices as Candice and Ryan have? Just apply online, and our recruitment team will help get you on your way!