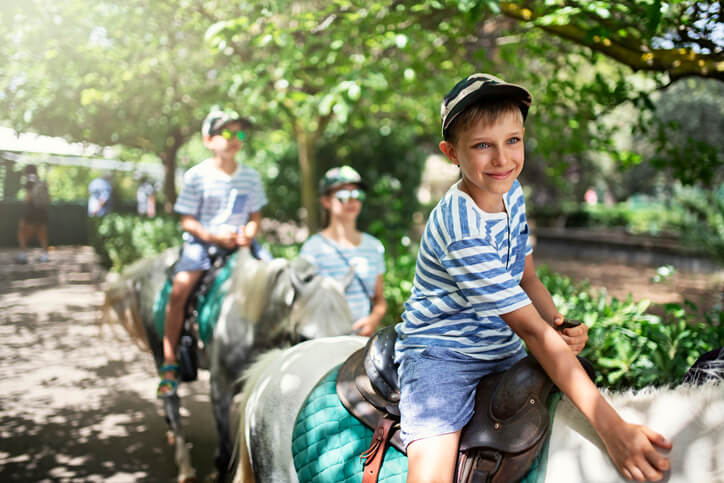 Travel Talk: So you do Therapy…With Hippos?!
Today we have a guest post by our SLP Travel Mentor, Melissa Jones. You can read more about Melissa through her awesome blog: Keeping Up With The Joneses. If you're interested in getting to know our other travel mentors, check them out here.
"So you do therapy…with hippos?!"
That is the typical response when I tell people that I do hippotherapy. So what is hippotherapy? It is a form of therapy that utilizes horses to help meet treatment goals for all therapy disciplines.
As a traveling SLP, I have had the experience of working in several different settings and with clients of all ages. Hippotherapy has been one of the most unique and rewarding experiences I have ever had as a therapist. For the past month, I have had the privilege of working on Saturdays at Front Range Hippotherapy in Longmont, Colorado. As a lifelong equestrian, it has been amazing learning how to incorporate horses into my treatment sessions. Horses are simply amazing in the way they interact with those children with special needs, and the children are amazing in how they interact with the horses. People often think that hippotherapy is a perfect fit for physical and occupational therapy, but speech goals can't be targeted through riding. But this can't be farther from the truth!
While riding is an incredible tool to work on balance, proprioception, posture, and breath support, riding a horse is a built in natural motivator for speech. These kids love to ride, and want to be able to tell their horse "GO!" whether that is through a verbalization, pushing a button, exchanging a PECS icon, or tapping the horse- they want to ride! My sessions can target various goals, including sequencing, following directions, reading, and verbal expression. I love getting to plan my sessions because I get to be so creative in using the horse and the environment as part of therapy. It is a great way to get out of a therapy room, and into a more natural environment. All week I look forward to my sessions at the Front Range: I love getting to see my kiddos gain confidence and progress in their goals, but the best part is seeing the smiles, the laughter, and the joy on their faces while they are riding.
For more information about hippotherapy, check out frontrangehippotherapy.org and americanhippotherapyassociation.org