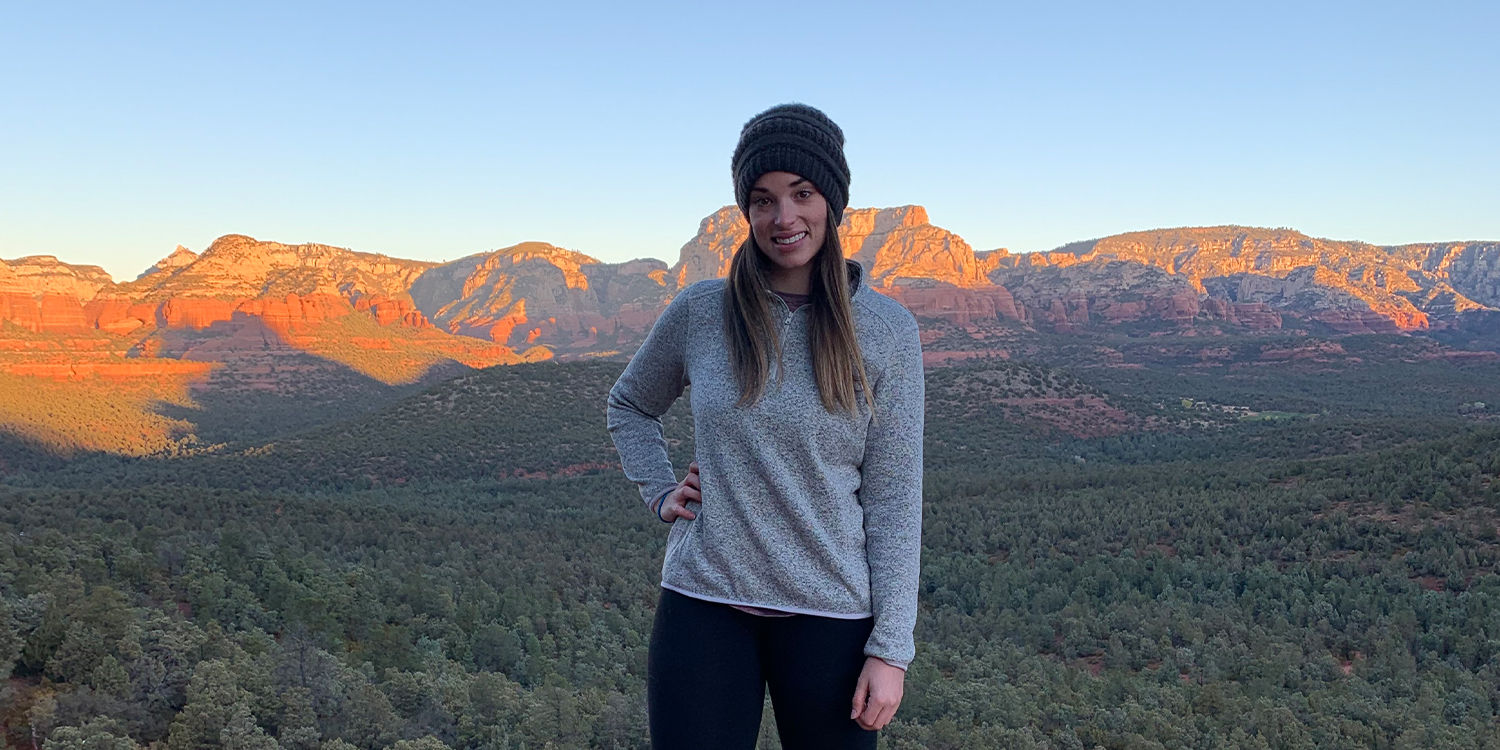 Next Stop, Arizona: Exploring the Southwest with Lindsey Moore PT, DPT
As a travel therapist at Med Travelers, one of the unique perks of your job is, well, traveling! You have the opportunity to take enriching assignments and progress your career and explore the far reaches of the country on your own (paid) expedition. Whether you're a new face to travel therapy, charging eagerly into adventure, or a road warrior seeking new frontiers, an assignment in Arizona might be your next stop. So, where do you get started?
Fortunately, you don't have to look far to set your sights on the American Southwest. We recently had the incredible opportunity to speak with a special guest, Lindsey Moore PT, DPT, on our I Need (Travel) Therapy Podcast—and she shared some key intel from her assignment in Kingman, Arizona. Here's what she had to say:
On the Arizona Culture and Community…
"Everybody is very friendly. I love where I work because my patients are awesome, the therapists are all awesome—everybody's been welcoming."
Nerves can be high when traveling to a new location and facility on assignment, especially for fresh travelers! Working with a friendly and welcoming team can go a long way in making you feel at home, wherever that may be. Once you've finished your shift and want to go out exploring:
"There are a lot of outdoor activities, so a lot of people hike and mountain bike, and some people have kayaks that they take to Lake Mead—we're about an hour and a half depending on where you come from to the Colorado River [also]. So, a lot of outdoor stuff to do."
If the great outdoors is your cup of tea, Arizona sounds like a place that will surround you with other like-minded enthusiasts. Outdoor activities are also an awesome way to branch out and meet new people in the area!
On Finding Housing…
"One of my favorites [Facebook groups] is Travel Therapy Therapists, it's got over 10,000 members, and it's just a great resource to go and ask for housing options in whatever area you're in. I posted a question about housing in Kingman, and one of the therapists reached out to me and told me to ask the HR Representative at the hospital—they actually have an employee housing option."
Having such a robust resource at your disposal can put you at a serious advantage when sorting out the logistics of your Arizona assignment. Depending on where you are working, employee housing options can set you up nicely in a new home, without breaking the bank:
So, this is the first time I've had this option. Still, I'm actually living in a really nice, fully furnished apartment right across the street from the hospital and paying very affordable rent for a 2-bedroom, 2-bathroom apartment."
Not too shabby! It might even come equipped with a bonus best friend:
"Through that same way, a travel speech therapist who was looking into taking a job here reached out to me, and I went out on a limb and said, 'Hey, I have an extra room, you can live here, and she's now one of my best friends here, so it's been great."
While access to employee housing is a huge perk when hunting for a new place, it is not always available. If your facility doesn't offer to house or you want to explore other options:
"In the past, I've always used Airbnb. I know many people use Furnished Finder, but I've had a lot of luck, even in tiny towns, finding a fully furnished place on Airbnb. You might have to pay a little extra and be a little bit further away from where you work, but it typically always works out—and I know a lot of people if they can't find something, they'll do a short-term hotel stay until they find something."
On Packing Essentials…
"Specifically for Arizona, I guess it depends on what you're into. So, for outdoor activities, I always have my camping gear with me, all of my hiking stuff—and I snowboard, so I have my snowboard with me—that's another thing that might surprise you—in Flagstaff, there's a ski resort there, and it's actually the highest peak in Arizona, so they get pretty good conditions for winter sports, too."
With the wealth of outdoor adventures that Arizona provides, it might be prudent to pack an extra bag—or trunk—just for the gear, you might use. Make sure to bring another one, too:
"In terms of essentials, I think whatever clothes you need for what season it's going to be [when you're there]—so, I always bring a little bit of everything, just in case. And then, I've typically gotten furnished apartments, so I haven't really needed to bring a ton of household appliances."
No matter the season you experience in Arizona, it's always safe to come prepared!
On Must-See Sights…
"I typically don't stay in one place for too long, but there is just so much to see here that I keep extending, and I've pretty much been exploring every weekend."
Now you really have our attention.
"If I had to narrow it down—I made a list here—definitely, The Grand Canyon. I've been three times so far, and the most recent time, this past weekend, I went skydiving over The Grand Canyon, and that was amazing."
If visiting one of the seven wonders of the natural world isn't enough for your taste, you can always jump out of a plane! Arizona's natural beauty doesn't end there, though:
"Horseshoe Bend in Page, Arizona, is another must-do when you're [here] for sure. It's so beautiful, and there are just so many things to do around Page."
If mountains are more your thing:
"The highest peak in Arizona is actually Humphreys Peak—which I mentioned before—so, hiking to the top of that if you're a hiker, that's one of my must-do pieces of advice for people who come here."
Outside of natural wonders, Arizona also boasts some incredibly picturesque cities:
"My favorite place that I've been in Arizona has been Sedona. It is just beautiful. So, those would be my top-four places."
Now that you have some amazing places to start exploring remember—the list goes on and on!
On Local Flavor…
"I definitely hike so that I can eat food!"
We couldn't agree more! So, what cuisine should you be seeking out after you hit the trail?
"Mexican food—you can honestly not go wrong with Mexican food here. It's just so authentic. I would definitely recommend, if you're in Arizona, looking up an authentic Mexican restaurant."
There are not many foods that can top authentic Mexican, in our honest opinion. If you're on the same page, you have hit the jackpot living in the American South West! While the food is plentiful, two places stand supreme in Arizona:
"The places I've been in Arizona that have the best food, I would say, are Sedona and Flagstaff. You really cannot go wrong in ANY restaurant [in those cities]—I don't have any specifics, but you can't go wrong."
We'll take Lindsey's word for it. Make sure to pack an appetite when visiting Sedona and Flagstaff!
We hope you have enjoyed learning a bit more about life as a traveler in Arizona. We want to extend a big thank you to Lindsey for sharing her travel PT experience in Kingman, Arizona—she provided some tremendous insights into life there. Hopefully, she inspired some future travelers to join her!
If you'd like to follow Lindsey on her travel PT adventures, make sure to check out her Instagram page!
Interested in taking an assignment in Arizona? Explore Arizona Jobs here!