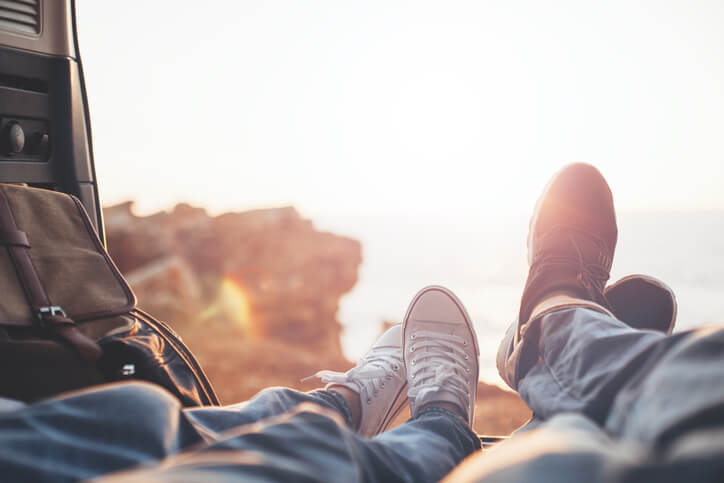 Married Travelers Hit the Road as New Grads
Married Travelers Hit the Road as New Grads
Jana and Hayden Shelton, two occupational therapists who have been with Med Travelers for two years, started traveling to expand their skill set, work in and experience many different settings, and grow as practitioners.
"We didn't really know what we wanted to commit to," said Jana. "There are so many things you can do as an OT, and we just felt like we needed to taste a bunch of different things before we decided on anything permanent."
So they set out on their adventure, with a tentative plan to travel for about 18 months and then head back to their home state of Alabama for permanent work. But now, according to Hayden, the couple isn't sure if they're ever going to stop.
Jana and Hayden were married right before entering separate OT schools in Alabama. The couple looked into traveling after attending a lunch-and-learn at Hayden's school. Wanting to satisfy their sense of adventure while chipping away at their student debt, Jana and Hayden found a website that matched travelers to recruiters. That's how they found Med Traveler recruiter Kalie Simmons.
"Kalie was very helpful," Jana said. "She eased our minds and our worries so much. When we got off the phone with her, it was instant trust. We wanted to work with her."
"What's great is she gives us our space and then is there for us when we need her," added Hayden. "And every time we needed a job, we've never had to wait. We'll get done with one job, and then we'll start another one maybe a few thousand miles away within three days."
Rearing to go
After getting married, starting school and dedicating themselves to passing their boards, Jana and Hayden were eager to travel. Although they said they would take any location just to launch their new life chapter, Kalie found them an excellent hospital in Amarillo, Texas, that was perfect for new graduates.
"We went from Alabama to Texas, and that was our first time moving far away from our families," Jana said. "And it just felt like home to be in Texas, around such amazing people. That's something we've experienced at almost every assignment. Now we have friends all over the United States. So if we needed something in any given state, we have a friend to call. That's like the most rad thing to me."
As new grads, Hayden is impressed by how easy it has been to find jobs.
"I don't know if it's us or if it's Kalie, but it's never been hard to find a job as new grads," Hayden said. "And our employers have always enjoyed having us. We've been asked to extend multiple times. It's not been difficult as new grads finding jobs."
California bound
After Texas, Jana and Hayden eventually landed in Merced, California, located in the heart of the Central Valley.
"I'd always wanted to be in California," said Jana. "It's just something that I always dreamed of as a girl. It was always a bucket list location. I never knew I'd have the opportunity to live in California. I just thought I'd visit. But I love the beaches, the celebrities, the national parks, all of it — the whole experience."
Hayden said he enjoyed being two hours from San Fransisco, Yosemite National Park, and world-class beaches.
Other locations they plan on traveling to include Maine, North Carolina, Arizona and then back to the Pacific Northwest.
When asked whether their previous 18-month plan had turned into a five-year plan, Hayden said, "We really are just winging it. I used to think in five years we would be settled down and maybe own our own home, but now I don't know. I could see us buying an RV and doing this longterm."
READY to start expanding your career choices as Jana and Hayden have? Just apply online, and our recruitment team will help get you on your way!