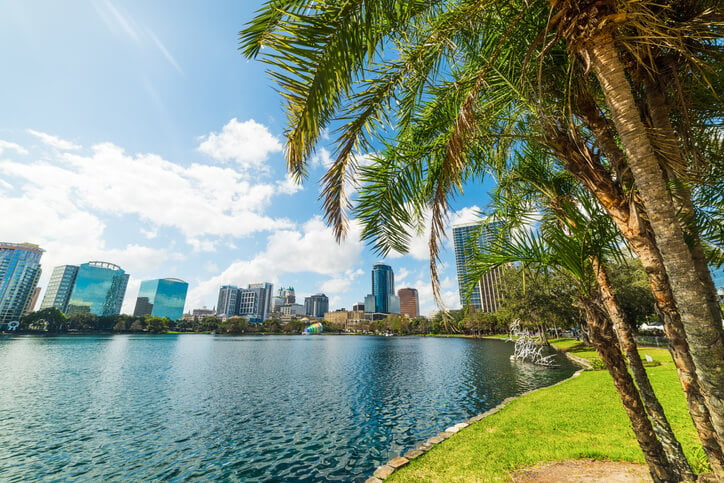 Florida – Off the Beaten Path
Experience Florida like a local during your allied travel jobs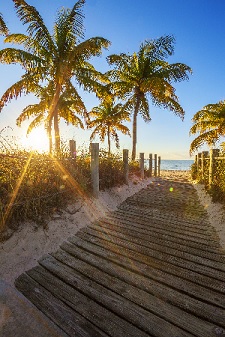 By E'Louise Ondash, RN, health and travel writer
It's the fourth most populated state in the country and it's called the Sunshine State for a reason. Florida has for years been the favored destination for those seeking warmth, fun and subtropical living--even in the dead of the winter. It is also a haven for allied jobseekers looking for short-term travel assignments.
FIND <Florida travel jobs> for allied healthcare professionals.
During your allied job assignment in Florida, bypass the amusement parks and spring-break beaches and check out these (mostly) off-the-beaten path options:
Gainesville
Invite a multi-colored butterfly to sit on your shoulder or perch on your arm in the Butterfly Rainforest at the Florida Museum of Natural History. One of the world's largest collection of butterflies and moths resides here. Follow the walking trail and marvel at the tropical trees, plants and flowers, and waterfalls throughout the 6,400-square-foot outdoor enclosure. The $12 million center also is a Lepidoptera research facility.
On a bit less aesthetic note, but nonetheless fascinating, is the museum's Bat House and the Bat Barn, home to tens of thousands of bats that emerge daily about 15 minutes after sunset. For a thrill (or not), be aware that "bats may swoop near those observing… to eat insects attracted to the carbon dioxide in human breath." (Eeeek!) However, say experts, leave the bats alone and they will do likewise.
Miami Beach: Collins Park Neighborhood
You've heard of South Beach, but perhaps not the Collins Park neighborhood. It sits on the northeastern point of the South Beach Historic District, and those in-the-know say that it's fast becoming ground zero for the cultural scene in Miami Beach. The neighborhood hosts the Bass Museum of Art, the Miami City Ballet, the SoBe Music Institute, the Holocaust Memorial, and the Miami Design and Preservation League. Occasional free concerts in the park.
For Saturday and Sunday brunch, locals give high marks to the Orange Blossom restaurant – "away from the craziness of South Beach."
St. Petersburg
The Big Bang for the craft beer industry in St. Petersburg occurred in 2013, and since then, more than 25 breweries (and counting) have appeared. St. Pete wants to be known as Beer City, and to that end, they have dubbed the route from Tarpon Springs to St. Pete's as the St. Pete/Clearwater Craft Beer Trail. Grab your designated driver or hop (pun intended) on the Brew Bus.
Also in St. Pete's: the Morean Arts Center, which exhibits the larger-than-life, other-worldly glass sculptures of Dale Chihuly. Regardless of your opinion of his work, the blend of Chihuly's wild-and-crazy works and the museum's architecture provides some wild visuals.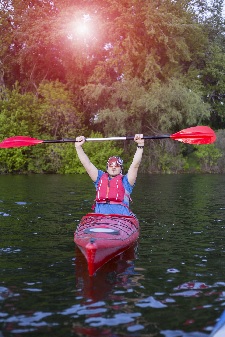 Mosquito Lagoon Aquatic Preserve
Call it Mosquito Lagoon and they will not come.
At least that's what nearby residents had in mind when they decided NOT to rename Mosquito Lagoon Aquatic Preserve. As one nearby New Smyrna Beach resident put it, "[We wanted to] save this pristine waterway and bountiful ecological paradise for the continued use of the wildlife – and the locals, of course." Located about 50 miles northeast of Orlando, the lagoon's southern portion is one of the least developed areas on the state's east coast. Activities include kayaking, canoeing, hiking and birding. Now that you know about the lagoon, you are sworn to secrecy.
Key West
Known for its quirky, "whatever" lifestyle, Jimmy Buffet music and Hemmingway haunts, Key West also is home to the Southern Keys Cemetery. Its notoriety derives from its residents' sense of humor. In the heart of Old Town Key West, the cemetery features tombstones with unusually humorous epitaphs ("I Told You I Was Sick" and "I'm Just Resting My Eyes"), alligator-themed headstone art and lots of sculptures throughout. Many tombs are above ground, not because of a high water table, but because the island is a coral atoll, impossible to penetrate. A separate Jewish section includes the remains of Jews who were shipwrecked on Key West (who knew?). Cemetery guides are available at the office.
For good food, (live) people-watching and local flavor, there are Key lime martinis and half-priced appetizers during happy hour at Alonzo's Oyster Bar; blackened hogfish sandwiches at the Hogfish Bar Grill; and conch fritters, made from a Bahamian grandmother's recipe, at the Conch Shack.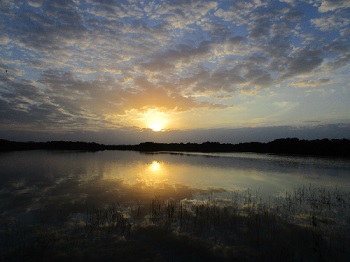 Everglades National Park
Yes, it's popular with tourists, but Everglades National Park is one major attraction you don't want to miss. Also a World Heritage Site, the park provides "a wildlife spectacle like no other." For an overview of the park's history as an ecosystem, start with a ranger-guided tour on a trail, in a canoe or on a tram. Sign up at the Flamingo, Gulf Coast, Royal Palm, or Shark Valley visitor centers. Short on time? The half-mile Anhinga Trail offers one of the best routes for seeing a wide variety of animals. The "glades" are a photographer's dream, too. Early morning and dusk are the best for both photos and photographers. Be sure to heed the safety advice.
LEARN MORE about <allied travel> or <apply with Med Travelers> to start your travel adventure.
© 2016. AMN Healthcare, Inc. All Rights Reserved.