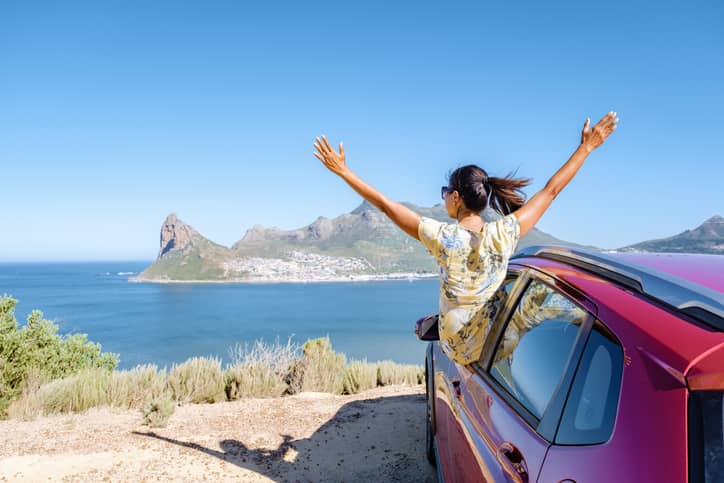 Take the Scenic Route: 5 of America's Best Scenic Drives
Looking for Scenic Road Trips to Your Next Assignment? Try These Five Top Picks.
If you are an allied healthcare traveler, you probably enjoy many aspects of the travel experience--from sightseeing and exploring new places to immersing yourself in a different city. And, chances are you love a good road trip. So if you are seeking a scenic route to your next assignment or just an unforgettable day trip, check out some of our travelers' picks for the best scenic drives across the country.
Related Blog:The best way to drive across the u.s. hitting all major landmarks
Pacific Coast Highway
One of the most recommended scenic road trips out there is the Pacific Coast Highway, or California State Route 1, which starts in the town of Leggett in the north, winds along the coast and ends just south of Orange County. Warm spring and summer weather and spectacular ocean views make a convertible the ideal way to travel this scenic route.
The route is dotted with quaint towns such as Monterey, home of the famed Monterey Bay Aquarium, and the artists' colony, Carmel. The drive features impressive natural sites such as redwoods, the pounding surf of Big Sur and mountains that plunge into the ocean below. This scenic route also takes you across the Golden Gate Bridge, by the Santa Monica Pier and to the famous Hearst Castle. Travelers may want to break the 650-mile route into sections in order to enjoy each area to the fullest.
US 1 Florida Keys
Driving down US 1 from Miami to Key West will lead you to an island paradise. Calm vibrant waters, swaying palm trees and outstanding snorkeling, shell collecting and fishing will be your reward. This drive will take you from island to island in the Florida Keys along a series of bridges, many of which were built over 100 years ago for a railroad.
You will discover food, music and art influenced by Cuban, Bahamian, and Caribbean cultures. The Keys have something to offer everyone, from water sports to museums, from historic sites to dancing or simply relaxing on the beach. This 120-mile drive is sure to please.
Bluebonnet Trail, Texas
From March to May, the Bluebonnet Trail from Austin to Houston is abloom with the state flower. The flowers peak in late March to early April, and their beauty is highlighted at sunrise and sunset--often with a backdrop of quaint farmhouses and bed and breakfast inns.
The Highland Lakes region west of Austin and the Texas Hill Country are favorite locales for those hoping to see a concentrated growth of blossoms. In addition to bluebonnets, scenic road trips along this trail will often include sunflowers, paintbrush, coreopsis, and black-eyed Susans. Grapes are also grown in the area, and the Texas Bluebonnet Wine Trail boasts several impressive wineries.
The San Juan Skyway, Colorado
The San Juan Skyway in southwest Colorado offers travelers the year-round beauty of stunning waterfalls in the spring, blazing wildflowers in the summer, golden autumns and a snowy winter wonderland. This favorite among scenic drives makes a 236-mile loop, traveling through the San Juan and Uncompahgre National Forests, offering opportunities for backpacking, horseback riding and hiking suitable for all levels of expertise.
Tourist opportunities along this route include a day trip on the Durango-Silverton Narrow Gauge Railroad and Mesa Verde National Park, home to ancient Anasazi cliff dwellings.
Blue Ridge Parkway, Virginia and North Carolina
The Blue Ridge Parkway runs from Shenandoah National Park in Virginia to the north, and ends to the south where the Great Smoky Mountains National Park and the Cherokee Indian Reservation meet in North Carolina.
The parkway is a birders' paradise with more resident species than the entire European continent. For those attracted to floral beauty, there are the bowers of dogwood blooms in early May. The Onion Mountain loop trail, just off the parkway, is known for its rhododendron and mountain laurel and, in North Carolina, you can see Craggy Mountain covered in purple rhododendron from mid-to-late June. The parkway boasts access to panoramic views, waterfalls, fishing, hiking and camping. Other attractions include Appalachian crafts and the Blue Ridge Parkway Visitors' Center that includes a 24-minute award-winning video about the area.
Apply for Virginia Jobs Apply for North Carolina Jobs
Are you an allied healthcare professional with an itch to travel? Let one of our Med Travelers' recruiters help you find the ideal job in your location of choice. Contact us today!
© 2015. AMN Healthcare, Inc. All Rights Reserved.