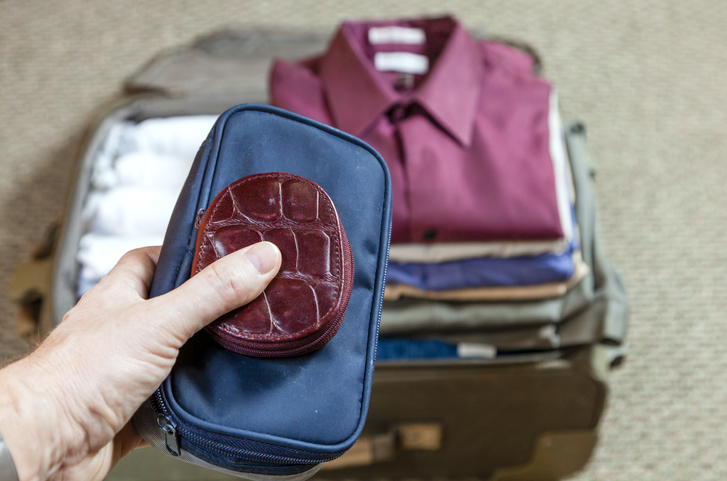 7 Packing Tips for Allied Travelers
With supplies in high demand and shoppers gravitating toward many of the same items (hand sanitizer, latex gloves and masks), allied travelers can do their part by planning ahead.
As a healthcare professional, you are probably better versed in how to prepare for disease outbreaks than the general public. Washing hands and sanitizing surfaces come natural to you but it doesn't hurt to begin a checklist of essentials that will help you stay healthy and ready to work when you reach your assignment.
After all, your good health will play a critical role in how you help your patients.
Use these allied packing tips to help you be prepared to hit the road.
1. Minimize the Amount of Clothing You Take
Start your list with this mantra: Keep it Simple. Begin by choosing items that you wear a lot. Go to your dryer or closet and find the "go-to" pieces that always make you feel happy. Make sure to take the clothes you feel comfortable in. Doing so will not only help you move around more freely, but they'll boost your mental state because they are your favorite pieces.
In addition, choose fabrics that don't require special laundering and those that can be easily washed and dried in standard machines.

2. Toiletries: Don't Overdo it
Toothpaste, mouthwash, deodorant and other toiletries can be easily purchased when you reach your destination. Purchase smaller travel sizes that will suffice until you can visit stores in the local area where you'll be staying. Even though many businesses are shutting down during the coronavirus outbreak, grocery and drug stores are open, making it easy to grab and go at any time.
Replace larger toiletries with common disinfecting items you most likely already have around the house. For example, a bottle of isopropyl alcohol or hydrogen peroxide will work equally well in disinfecting surfaces if you are driving. Fill a spray bottle and use it to wipe down surfaces in your car or even as a quick way to disinfect your hands and hotel room when you stop along the way. In addition, you probably already have small bottles of hand sanitizer that you can pop in your bag if you are flying.
Finally, grab a few bandages in different sizes to have on hand if you accidentally scratch yourself or suffer any small abrasions.
BONUS TIP: When flying, make sure any sanitizing items or toiletries you bring are compliant with TSA rules. The TSA allows you to bring a quart-sized bag of liquids, aerosols, gels, creams and pastes in your carry-on bag and through checkpoints. These are limited to travel-sized containers that are 3.4 ounces (100 milliliters) or less per item. Placing these items in a small bag and separating from your carry-on baggage facilitates the screening process. Pack items that are in containers larger than 3.4 ounces or 100 milliliters in checked baggage.
Any liquid, aerosol, gel, cream or paste that alarms during screening will require additional screening.
3. Use dual purpose containers
When it comes to allied travel hacks, look for multipurpose items that can pull double duty. Pill containers can serve multiple packing purposes. They're great for storing small items like such as loose jewelry, such as earrings.
BONUS TIP: If you decide to travel with jewelry, you can easily thread necklaces through drinking straws to keep them from tangling. In addition, storing necklaces in pencil cases make them easy to access whenever you need them.
4. An Overnight Bag Can Save the Day
With allied travel assignments lasting 4-26 weeks or longer, you're probably going to want more than just a carry-on sized bag. If you're driving to your allied assignment, you'll have more room, but it's still not necessary to overdo your preparation.
If you're flying, make sure to have a small carry on with you so you won't be stuck if your luggage is lost. You can check larger bags, but with a carry on you'll have the peace of mind that comes with knowing you are always prepared with clothes and other essentials if it takes a while for your luggage to show up.
Consider duffel bags or backpacks if they are large enough to hold a full outfit and the necessary licensing, assignment and credentialing paperwork you'll need to work. In addition, pack some high protein-snacks, your digital devices, and the charging cords you'll need to stay connected.
You can also use the same tactic when driving to your assignment. Keep a small bag in the passenger seat during road trips and you won't have to worry about unpacking all your bags during a quick overnight hotel stay.
5. Snacks and Water: Nutrition and Hydration Essentials
Staying hydrated and nourished is an integral part of your ability to help others. Stop at a local convenience store if you're driving to grab enough waters and snacks to keep you feeling in tip top shape.
Staying away from sugary snacks and fast food will also help you avoid spikes in blood sugar. If you already have fruit at home, wash it and put it in a baggie to keep handy for times when you need an easily accessible snack.
6: Your Car Could Use a Selfie, Too
It can take quite a bit of time to figure out just the right spot for each item when packing your car for travel. When you're done, take a quick picture of your brilliance so you'll know what you did when you're preparing to travel home.
BONUS TIP: Save the pictures you take to use for reference when you're ready to pack up the car again.
7. Make Sure You Take a Moment to Reflect
When you get home after an allied travel assignment, it's normal to want to catch up with the ones you love and go to your favorite hangouts. But before you do, take some time to think about the things that worked and didn't work on your last assignment.
BONUS TIP: Ask yourself a few questions: Did I pack anything that never got used? Did I forget anything that would have made my trip better? Jot down these items and add them to your allied travel packing list to make sure you are more prepared than ever for your next assignment.
Finally, above all, stay calm and collected as you pack and begin your journey to any new assignment. As a healthcare professional, the recruiters at Med Travelers are confident that "you've got this."
To get to work faster, <complete the application process>. We look forward to connecting with you.