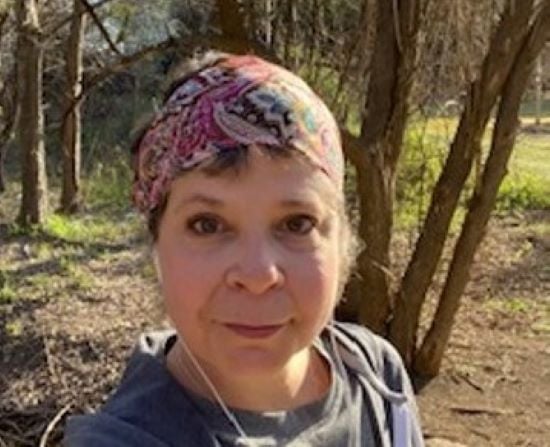 SLP Traveler Enjoying Teletherapy Jobs
Traveler of the Month Enjoying SLP Teletherapy Jobs
Charlotte H., SLP, practiced as a speech-language pathologist for over 20 years before becoming an SLP traveler for Med Travelers, and recently being named Traveler of the Month. After a life-changing diagnosis, she now chooses SLP teletherapy assignments to heal, stay close to home and enjoy more freedom in her workday.
Her training started in her home city of New Orleans where she went to school and obtained her master's degree in speech and language pathology in 1997. She did her clinical fellowship year in Pueblo, Colorado.
Charlotte then worked with children in the Santa Fe Indian School in Santa Fe, New Mexico, before returning to New Orleans as an early interventionist. Working with children from birth to five years old, she traveled extensively to patients' homes and preschools to deliver care, visiting up to seven different locations in a day.
She worked in New Orleans until Hurricane Katrina hit in August 2005, which uprooted her and her daughter. They then moved to Connecticut, where Charlotte worked in the public school system.
In 2006, Charlotte and her daughter moved to Charlotte, North Carolina, where she worked as an early interventionist until 2017.
Charlotte then made her way to Austin, Texas, a large city with an extensive travel requirement for SLP early interventionists. After a while, it became challenging for her to maintain such a rigorous schedule, and she decided to take an SLP teletherapy job so she could work remotely. But after two years, she was ready for a change.
Travel and Remote SLP Jobs With Med Travelers
Charlotte had heard about travel SLP jobs earlier in her career, and so she began to research allied travel companies that staff speech-language pathologists. She talked to a few recruiters, and one company stood out from the others.
"I talked to a few travel companies, but I was attracted to Med Travelers' benefits," she said. "The benefits are so good. Also important to my decision were the longevity of the organization and the representatives I spoke with who were incredibly helpful in guiding me."
Little did Charlotte know that her benefits would play a critical role in her life. Toward the end of her first SLP travel contract, Charlotte received life-changing news.
"In April of 2021, I was diagnosed with breast cancer," she said. "I got that diagnosis, and it changed my life. I continue to do immunotherapy, but I'm done with the hard chemo drugs. I was fortunate to land a job with such excellent benefits, including a critical illness plan, which allowed me to take medical leave and still live and survive and pay the bills. So, for that, I'm incredibly grateful."
Her Med Travelers team has helped to make things easier for her, including Charlotte's current recruiter, Amy W.
"Amy's amazing, and I love communicating with her," Charlotte said. "She's always there for any assistance I need and responds very quickly to emails and texts. We have a great relationship, and I'm incredibly grateful to her. I've been very lucky with the two recruiters I've had. They've been amazing individuals who have been compassionate, not only to what I'm going through personally but also helping me professionally."
Looking to work remotely again, Charlotte took an assignment with Med Travelers' Teletherapy Division, working for a school district in Fresno, California.
While applying for the job, several issues with the fingerprinting process for her California license delayed her clearance for employment. Not wanting to miss her August start date, Charlotte and her daughter drove from Austin to the California border to a Live Scan fingerprint location to ensure the school district in Fresno received her fingerprints on time. The trip provided the chance to see a few sights along the way, too.
"I'm an adventurous person at heart, so I am always up for road-tripping, and so is my daughter," Charlotte said.
Winning Traveler of the Month
Charlotte said being named as Med Traveler's Traveler of the Month came as a surprise, and she was happy when her recruiter told her the news.
Charlotte received the award in part for the exceptional qualities she displays, including being a go-getter, having a positive attitude, and caring for others. She discussed how these traits are integral for successful allied travel.
"The 'go-getter' is a necessary quality for travel success," she said. "You must take the initiative to do things independently, like finding a way to reach students when something's not working. Kids these days have been through a lot given the pandemic, so I'm finding that it takes different strategies to reach them. You have to take the initiative and find something interesting that gets students to interact and target their goals. And kindness, of course, is always a good character trait."
Charlotte admits that a less-than-positive attitude can be complex when going through a life-changing health event.
"Having cancer has been difficult," she said. "But I reserve the dark moments for myself, and I don't need to show that to other people. There are dark and light moments given all of this, but I do try and stay positive."
The Perks of 'Travel' Teletherapy
Charlotte enjoyed her first remote assignment with Med Travelers' teletherapy division so much that she took a second assignment with the same school district.
"I was happy with the school district," she said. "And given the medical issues that I had; I wasn't really looking for additional changes in my life. I stayed for the familiarity of it so that I could just get back to normal."
There are other reasons why Charlotte chooses telepractice over going to a physical site, whether as a traveler or permanent employee. Not having to go from location to location takes the stress out of her workday and gives her more time to do therapy planning and paperwork.
"The downside is not having the social, physical interactions with the students, although you can still make connections online that are equally authentic and important," she said. "The online delivery of service doesn't take away from that. Also, even though I'm a speech therapist, I am more introverted, so I'm a contradiction. I do like having some isolation. And, it's just nice to take a break and go sit outside and have a cup of tea and relax for 15 minutes and then get back to it."
Another perk of Charlotte's SLP teletherapy career is that she has time to enjoy her hobbies.
"My hobbies now include many outdoor activities so that I can be physically active every day of the week," she said. "I don't let work interfere with that anymore. Outdoor activities such as hiking and photography are vitally important to me."
Charlotte is comfortable in Austin and pleased with her current position and sees herself continuing to do teletherapy over the next several years.
Are you interested allied travel jobs or teletherapy positions? Just apply online, and our Med Travelers team will help get you on your way!