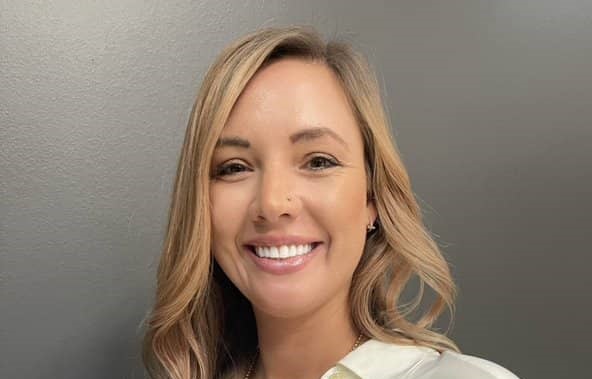 SLP Traveler Awarded for Achievement in Schools
Meet Jessica F., Travel Speech-language Pathologist
Dynamic, vibrant, and always focused on providing the best possible therapy to her students and their families, speech-language pathologist Jessica F., MS, CCC-SLP, a Med Travelers SLP traveler, received the Allied Achiever Award for the school's division.
"Jessica has been a joy to work with," said Donnisha, Jessica's recruiter. "She does a wonderful job while on assignment. Jessica has not had it easy on some of the assignments that she has been on, but she has always had a positive attitude and perseveres through it. The care that she has for her students wouldn't allow her to give up and quit, and that is something to be admired."
Med Travelers' recruitment team chooses winners of the annual Allied Achievers Award Program to coincide with National Allied Health Professionals Week, which takes place during the first full week in November. Recipients are recognized for going above and beyond in the course of their work throughout the year.
"I really feel I am working for a company that has my best interest at heart," Jessica said. "That has not happened to me before."
Building a Career in Speech-language Pathology
For more than seven years, Jessica has practiced as a speech-language pathologist. The majority of her experience is in pediatrics within schools and private practices. She also has experience working in skilled nursing facilities and with critical-care patients. Since joining Med Travelers, an AMN Healthcare company, more than two years ago, all of her SLP travel assignments have been with school-aged children.
"I am happy I chose this career path," Jessica said. "I have been traveling since the height of the pandemic. When the world shut down, my world opened up, which is cool."
Embracing Adventure As An SLP Traveler
As an SLP traveler, Jessica has had some incredible adventures.
"One of the most amazing experiences I will never forget is actually getting lost in Glacier National Park in Montana and waking up in the middle of the night to enjoy the northern lights," Jessica said. "That just goes to show you that sometimes getting lost is the best way to find yourself."
To start her adventures, Jessica drove her car cross-country solo from Georgia to Alaska. She drove through Banff in British Columbia, camped under the stars in the Yukon Territory during the summer, and put her car on a ferry to get to Juneau through the Alaskan rainforest. Jessica enjoyed hiking trails and mountains while on assignment in Juneau, found herself moseying through the ice caves at the Mendenhall Glacier, snowboarding with new friends, and meeting other traveler therapists along her path.
Upon returning to the lower 48 states after her Juneau assignment, Jessica drove through the redwoods in Northern California and down the state's western coast through Big Sur. She kayaked her way through Antelope Canyon in Arizona, hiked through the Petrified Forest, also in Arizona, and visited many friends and family along the way back to Georgia, her home state.
"I've had these wonderful experiences because I decided to take a chance with AMN," Jessica said. "I've had a lot of robust experiences in the last couple of years. When the rest of the world was living in uncertainty and chaos, I was exploring parts of the country that many people may never get to experience."
Jessica found the SLP travel experience as a balm to help heal her grief over the loss of her father shortly before she started traveling. She also helps with her family's business, AfterMedia, which honors military members and educators through sponsorships and advertising.
Increasing Professional Skills and Confidence
An added benefit to traveling assignments, according to Jessica, is that "SLP travelers meet and collaborate with other SLPs, school psychologists, occupational therapists, and physical therapists from around the country, which is increasing my knowledge and confidence as a provider overall."
As a traveler, Jessica said she also feels that she has a stronger voice in initiating change to benefit students and patients than in some other positions she might have held.
"I am very student-centered, and if something is not working for them, I will advocate," Jessica said. "Being a traveler has given me more confidence to provide the best care to students and for the school districts."
In addition to travel opportunities, SLP assignments also may include teletherapy positions, which can mean working remotely with students in another state.
Working with clients who speak languages other than English has inspired Jessica to begin studying those cultures to better communicate with students and their families.
"The quality of my life as far as job satisfaction and overall life fulfillment and purpose have been affected by this company," Jessica said. "And for that, I am forever grateful."
Sharing Her Wisdom
As part of her mission to always make a positive difference, Jessica has shared some suggestions to improve the AMN Passport app for travelers and other internal processes at Med Travelers, which the company is considering. AMN has even added her to its Passport focus group.
She enjoys talking with new travelers or those considering an assignment. She recommends fellow SLP travelers ask questions, saying the answer is always 'no,' until you ask. She also suggests taking risks, keeping an open mind to new contracts and where they might lead, and communicating individual wants and needs to recruiters.
"Our work is important, and we do make a difference, even on days where we might not feel as effective," Jessica said. "I believe I'm more well-rounded now as a therapist since I've started traveling. Because I've gotten the ability to work with different cultures and people around the country."
Ready for a travel SLP adventure of your own? Get Started today!