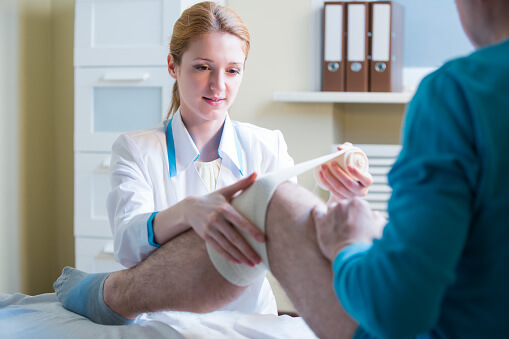 New 2017 Regulations Affecting Allied Healthcare Therapists
Several regulatory and payment changes already in place at the federal level will affect allied healthcare staff and travel therapists in the coming year. Additionally, a great deal of uncertainty exists across the country due to the possibility of the repeal of the Affordable Care Act.
Changing CPT codes
Current procedural terminology (CPT) codes have changed with the new Centers for Medicare & Medicaid Services (CMS) physician fee schedule.
"The coding piece for occupational therapy is most important," said Sharmila Sandhu, director of regulatory affairs for the American Occupational Therapy Association (AOTA).
Occupational therapists (OTs) have started using the new CPT codes, which are now based on a patient's level of evaluation:
Low-complexity OT patient cases should now be coded 97165;
Moderate-level complexity OT patients should be coded 97166;
High-complexity OT patients should be coded 97168;
These replace CPT code 97003. The new reevaluation code is 97168.
Physical therapy (PT) CPT codes also have changed. The evaluation codes now include three levels of patient presentation:
Low-complexity PT patient cases should use code 97161;
Moderate-complexity PT patients should be coded 97162;
High-complexity PT patients should be coded 97163.
These replace the former 97001 CPT code, and reimbursement remains the same.
The new PT reevaluation code is 97164, replacing the former 97002; the new reevaluation code increases the value of reimbursement.
CMS could use a tiered plan for the varying levels of patient evaluation in the future. Both the American Physical Therapy Association (APTA) and AOTA have advocated for a tiered payment.
"Once they get some data, they could come back and revalue those codes," Sandhu said. APTA and AOTA are offering educational courses about the new codes.
The therapy cap for physical therapy and speech therapy services combined will increase just slightly, from $1,960 to $1,980. The OT cap will have a similar increase to $1,980.
Speech-language pathologists (SLPs) will see a very slight increase in the conversion factor used to calculate reimbursement rates. However, changes have occurred in the practice expense portion of the codes.
Bundled payments for joint replacement therapy
The Centers for Medicare & Medicaid Services (CMS) is continuing with its mandatory bundled payment programs for joint replacements in certain parts of the country. The new rule will enable therapists to earn 5 percent incentive bonus payments for joint replacements care as part of the Comprehensive Care for Joint Replacement program. The clinicians eligible for the bonus, to be paid in 2018, need to use the new accountable care organization "Track 1+ Model."
Hospitals in the Comprehensive Care for Joint Replacement program can earn more money if they spend less than the Medicare target and may be required to return money to CMS if they spend more than the target.
CMS plans to launch a hip and femur fractures bundle in July. It also has a similar program for cardiac bypass surgery and myocardial infarctions. But like anything else in healthcare, the new administration may cut these programs.
MACRA and quality reporting
Medicare Access and CHIP Reauthorization Act of 2015 (MACRA) introduced the Quality Payment Program and the Merit-based Incentive Payment System (MIPS). OTs and SLPs are not required to report but may choose to do so to keep their reporting experience. This replaces the PSRQ program.
"We're encouraging our members to voluntarily report," Sandhu said. "We think it's good to maintain that experience because we know it is coming."
Pulmonary rehabilitation
Respiratory therapists (RTs) will notice that reimbursement rates for pulmonary rehabilitation declined significantly. For instance, for code G0237, the rate decreased from $91.18 in 2016 to $28.37 in 2017. G0238 and G0239 also declined to $28.37. These three pertain to therapeutic procedures to increase respiratory muscle strength or respiratory function. G0424 also declined per hour from $55.94 in 2016 to $54.53 in 2017.
Risks with ACA repeal
The great uncertainty leading into 2017 is what will happen to the Affordable Care Act (ACA). Republicans continue to vow to repeal it, but as of mid-January 2017, no replacement plan has been announced.
A report from the Milken Institute School of Public Health at The George Washington University in Washington, D.C., estimates that repeal of the ACA's premium tax credits and federal payments for expansions of Medicaid for low-income adults will lead to about 2.9 million jobs lost in 2019. About one-third of the lost jobs will be in the health care sector, including doctors, nurses, pharmacists, and other personnel. Major job losses also would occur in every state and affect other industries that supply health care.
ADVANCE YOUR CAREER in 2017 with travel therapy jobs from Med Travelers; apply today to get started!