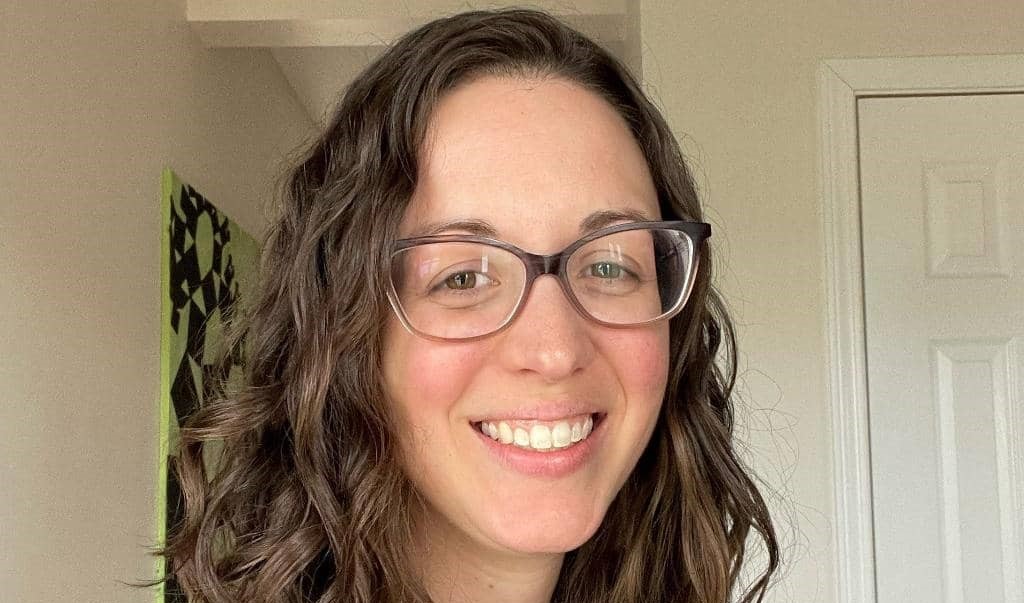 Meet Nicole P., Clinical Manager, Travel OT Assignments
Occupational Therapy Month Spotlight
During April, Occupational Therapy Month, occupational therapists (OTs) and others celebrate the profession, and the meaningful differences OT makes in clients' lives. This month also provides the opportunity to highlight one of our own dedicated professionals who has transitioned from direct therapy to supporting other therapists on travel OT assignments.
Drawn to a Helping Profession
"Occupational therapy has been a great profession for me," said Nicole P., MS, OTR/L, OT clinical manager for Med Travelers. She knew from an early age growing up in Western New York that she wanted to work with people with disabilities.
"I wanted a profession where I could support individuals in the community," she said.
After graduation from high school, Nicole worked for five years with Special Olympics as a coach.
"The athletes taught me so much about teamwork, dedication and problem solving," Nicole said. "They were so impactful in my life. That's the reason I went into occupational therapy. I wanted to find a way to help other people."
Nicole has worked as an occupational therapist in a variety of settings, including skilled nursing facilities, assisted living facilities, hospitals, and outpatient offices. She said that OT appeals to out-of-the-box thinkers who want to help others achieve their goals.
Supporting Travel Occupational Therapists
In 2020, Nicole joined Med Travelers, an AMN Healthcare company, as a per diem OT clinical manager, while she continued to practice as an occupational therapist. She transitioned to a full-time clinical manager role earlier this year, which has allowed her to help even more people.
"I loved this opportunity to grow in a leadership role and to support healthcare professionals," she said.
As a clinical manager, Nicole works with travel occupational therapists to support them on the road, share best practices and troubleshoot any issues that may arise during a travel OT assignment. Her experience practicing in a variety of settings helps her in coaching OT travelers.
"Our goal is to support the travelers on assignment to be successful on their assignments," Nicole explained.
At times, that support involves providing a listening ear and building relationships. She also helps ensure traveling occupational therapists can provide stellar care by sharing evidence-based protocols and answering common questions. In addition, she can often look at situations and offer a different perspective than the therapist who is on the job and running into issues.
Nicole also coordinates with hiring facilities where the OTs work to ensure she offers candidates with the needed skills for each job. Finding a good match benefits both the OT and the facility. "We partner with the whole team," she said.
The Appeal of Travel OT Assignments
Nicole noted that travel OT assignments appeal to outgoing and confident professionals. Travel occupational therapists must communicate well and adjust easily to new settings. Opportunities exist in hospitals, skilled nursing facilities, outpatient clinics, home healthcare and schools. Travel OTs may work with adults or children and can work with their recruiter to choose from numerous options for a rewarding travel assignment.
Travel positions enable OT professionals to experience life in different parts of the country and get a feel for working in various sized hospitals or skilled nursing facilities.
"It's great for expanding your cultural horizons," she said.
Travel OT assignments also present opportunities to learn from colleagues about different techniques and treatment strategies and to grow as a professional.
Occupational Therapy Month is a great time to advance your career with an OT travel assignment. Med Travelers has hundreds of travel OT jobs available to choose from, in places from California or Arizona to Connecticut or Virginia. Plus, travel therapists enjoy a number of benefits, including paid housing and travel expenses, licensure assistance and more.
"AMN has a supportive team that are all here to help you find individual success in a travel position," Nicole said. "We are driven to build a relationship with our future and current travelers so that we can find a good fit for your clinical skillset, personality and desired geographical location."
To learn more about travel OT assignments, contact a MedTravelers career advisor today.