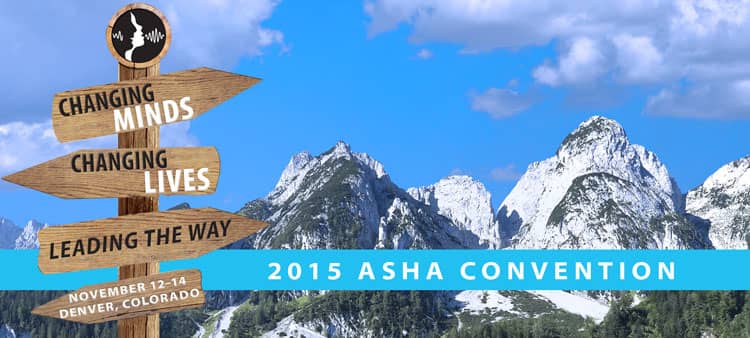 ASHA 2015 Preview
Next week, Advanced Medical joins thousands of speech-language pathologists, audiologists, students, and other colorful characters at the 2015 ASHA convention. Taking place in our own backyard of Denver (we have an office in Broomfield), this year's show is overstuffed with informative programming, social activities, educational seminars, and intensive networking via the always frenetic exhibit hall. This year's tagline is: "Changing Minds. Changing Lives. Leading the Way."
The Highlights
The slogan seeks to capture the evolving nature of the profession and the way that speech and hearing professionals are embracing change and technology to impact patient care for the better. Let's run through a few of the highlights outside the exhibit hall. On Wednesday, attendees can get an early start with the ASHA PAC reception and engaging Academic Town Hall. Thursday morning, the official kickoff rally commences, with a message from ASHA president Judith Page and an inspiring speech from keynote speaker Kelly Gonigal. A psychologist and best-selling author, Gonigal talks about channeling stress to make us stronger, happier, and healthier. On Friday, some really smart people battle in out in the "Knowledge Bowl", while the evening showcases the Awards Ceremony that includes the annual "Annie Glen Award". This year, Annie Glen will be the recipient of her own award in recognition of her immense contributions to the profession. Saturday finds the valuable Graduate School Fair taking place and the elegant closing party at the Denver Museum of Art.
Looking for us? It should be easy, as our role as a key event sponsor provides numerous opportunities to hear more about our organization and talk with key representatives in multiple forums. Our recruiting team will be on hand to talk about our extensive travel opportunities in a variety of settings, while our accomplished speech mentors will be on hand in a special lounge area called the "peaks of knowledge". Here, students can learn about our unique CF mentoring programs, socialize in a laid-back environment, and possibly win a professional hikers backpack.
Our home base is booth #1229 and the "Peaks of Knowledge" Lounge will be located somewhere above the convention floor…just follow the trail and look for the Advanced Medical flag! I would also encourage you to lean on us for tourist tips as the crew is well-equipped to send you to the right mountains, watering holes, and cultural happenings, to make the most of your visit to this incredibly diverse city. We are pumped up for this signature event and hope you enjoy the rocky mountain high as much as we do. See ya soon!