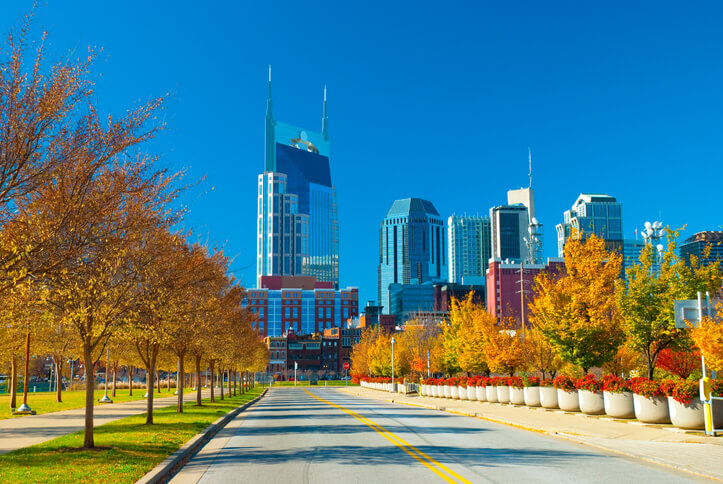 AOTA 2015 Recap
Last week, Nashville hosted thousands of energetic occupational therapists for the 95th AOTA National Conference. Advanced Medical could be found soaking up the action at booth #1130 in the grandly modern (opened 2013) Music City Center Exhibit Hall, which was bustling from the word go. The event's eager smiles and full-throated optimism were on full display, with my main takeaway being: The State of Occupational Therapy is Strong!
The Benefits of Mentorship
Advanced Medical was lucky to have New Grad Mentor Andrea Yeldell gracing our booth. Andrea was a veritable encyclopedia for the scores of new grads who visited the booth looking for trustworthy information on travel therapy. As a mentoring OT, Andrea was able to relay the benefits of a career in travel therapy and the importance of the Advanced Medical New Grad Program in the professional development of young therapists. Thursday night gave us an opening ceremony that featured an empowering speech from AOTA President Ginny Stoffel and a keynote address from noted author Rosalind Wiseman, who has written extensively about the issue of bullying. Her work inspired the movie Mean Girls, and her speech gave insightful strategies for OTs in dealing with complicated social group dynamics.
From there, it was on to the opening of the exhibit hall. Unlike other conferences, the AOTA has always made the opening of the exhibit hall a night session. This has typically made the hall a buzz-worthy place, not just because a cash bar is offered. The Exhibit Hall décor contributed to the raucous atmosphere as life-size country music star cutouts dotted the landscape everywhere you looked. Manning our booth with style and wit were New Grad Manager Codey Thalacker, National Recruiter Kat Ortega, and Senior Account Manager Seth Mukai. With a buoyant attitude and easygoing rapport, this trio proved to be a popular resource for the swarming students draping booth #1130. We were also fortunate to have a number of valued clients and current travelers stop by to say hello. The conference itself had over 900 educational sessions offered and an overflow of talented speakers. In addition, the event was jam-packed with social events, both formal and informal. It helped that the convention hall was smack dab in the middle of the famous Music Row. The hometown Nashville Predators Hockey Team hosted a playoff game right beside the Music City Center, contributing to the circus-like environment. Yes, that's right, a hockey team… in Nashville.
If you're one who thinks of the "Music City" as a playground only for those sporting cowboy boots and guitars, then it may be a time to recalibrate your perception. Nashville still revolves around its musical heritage between the grand ole opry, bluebird café, and even an ABC television show based around the music business. However, the city has taken on a bit of a makeover with foodie destinations, upscale urban living, and the skyrocketing prestige of the Vanderbilt University Medical Center. The Advanced Medical team can vouch for the diverse establishments on display as we dove into everything, from farm-to-table to traditional southern, and of course, it was all mixed in with a few honky-tonk bars. Special kudos must be handed out to Hattie B's, a renowned local institution famous for their "Hot Chicken," which is fried chicken smothered in all kinds of glorious spicy sauce. Next year the menu changes to Chicago Dogs and Deep Dish Pizza as we head to the "windy city" for AOTA 2016. We hope to see you there!
Advanced Medical wants to thank all of those who visited our team and engaged us with genuine excitement over the possibility of travel therapy. It is evident that the future of the profession is in excellent hands. We look forward to answering more of your questions and hopefully bringing you a diverse and challenging therapy adventure in the future. Until next time…